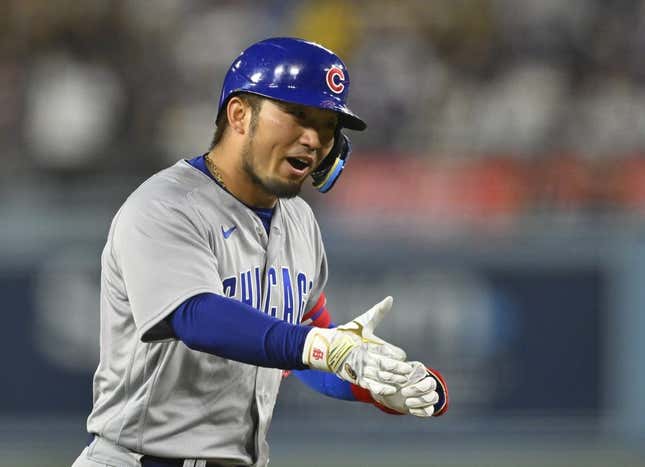 Seiya Suzuki made an immediate impact in his season debut for the Chicago Cubs, who will continue their three-game road series against the Los Angeles Dodgers on Saturday night
Bass' ERA stinks, but not compared to who he is off the mound | Worst of the Week Countdown
Out since suffering a left oblique strain during spring training, Suzuki homered in his season debut Friday as the Cubs rolled to an 8-2 victory. Yan Gomes went 3-for-4 with two home runs for Chicago, which has won six of its past eight games
Suzuki, who batted cleanup in his return, helps to lengthen a Cubs lineup that features Nico Hoerner, Dansby Swanson and Ian Happ at the top of the order
"It's exciting. It was cool to see his name in the lineup," Cubs outfielder Cody Bellinger said. "I think that brings a whole different dynamic to this lineup.
Happ went 4-for-4 with a homer, three RBIs and a stolen base for Chicago, which snapped a 10-game losing streak against the Dodgers with Friday's victory
Cubs right-hander Jameson Taillon (0-2, 7.00 ERA) will take the mound on Saturday. He is seeking his first victory with his new team after giving up a total of eight runs (seven earned) over nine innings in his first two outings
Taillon, 31, allowed five runs (four earned) on six hits and one walk in five innings in an 8-2 loss to the Texas Rangers last Sunday. He has walked two batters or fewer in 12 consecutive starts dating to Aug. 8, 2022.
J.D. Martinez is 4-for-16 with a homer against Taillon, who is 0-1 with a 7.71 ERA in three career starts against Los Angeles. He last faced the Dodgers as a member of the Pittsburgh Pirates on June 7, 2018
The Dodgers will turn Saturday to right-hander Michael Grove (0-1, 14.73), who is looking to bounce back after allowing nine runs over 3 1/3 innings in an 11-6 loss to the Arizona Diamondbacks last Sunday
"I got hit," Grove said. "Credit to them. They barreled up the ball a lot, and it didn't go at anybody. Just one of those days. I didn't feel like I threw the ball terribly. Missed some spots and wasn't landing the curveball, so some things to work on. But all in all, I give credit to them. They hit the ball."
Grove, 26, has yielded 12 runs on 14 hits across 7 1/3 innings in his first two starts. He will face the Cubs for the first time in his young career
The Dodgers have lost five of their past seven games and were held to three hits in the series opener
"We couldn't muster anything. We got one base hit and a couple homers," Los Angeles manager Dave Roberts said. "But we didn't threaten all night."
One bright spot was the power displayed again by third baseman Max Muncy, who homered for the fifth time in his past four games. Muncy's six home runs this season ties him for the major league lead.
This weekend's series marks a return to Los Angeles for Bellinger, who played his first six seasons with the Dodgers
Bellinger went 1-for-4 while batting fifth on Friday in his first game against the Dodgers since signing with the Cubs as a free agent during the offseason
"Lots of good memories (at Dodger Stadium), except I came in from the other side today," Bellinger said. "It's good to be back. I'm excited to see the guys after this and kind of mess around."
--Field Level Media