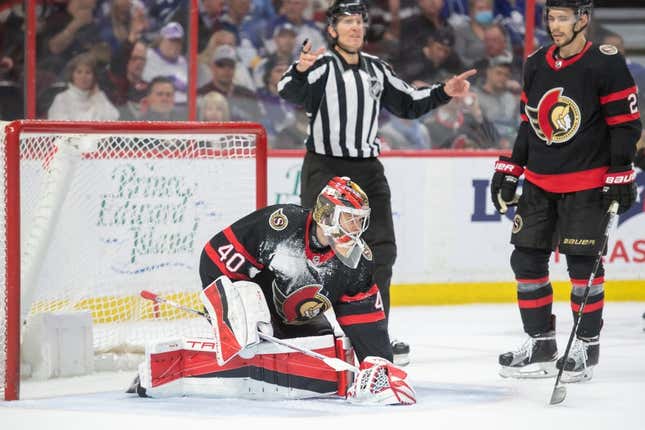 The Ottawa Senators will try to keep pace in the race for a playoff spot when they visit the Columbus Blue Jackets on Sunday
Aaron Rodgers should go full Joe Namath | Comedian Bert Kreischer
The Senators (37-34-5, 79 points) find themselves six points behind the Florida Panthers for the second wild-card spot in the Eastern Conference after dropping a 3-0 decision to the Toronto Maple Leafs on Saturday. Ottawa had gotten itself back into the race prior to the setback, going 4-2-0 in its previous six outings after losing five in a row (0-4-1)
The Senators face a steep hill with only six games remaining in the season and both the Pittsburgh Penguins and Buffalo Sabres ahead of them in the chase for the playoffs
"It's going to go all the way to the end," captain Brady Tkachuk said. "I think everyone knows in this city, and whoever follows us, that we're not going to give up until the very last buzzer. If it happens, great, and if not there's a lot of valuable lessons we've learned throughout the process."
Ottawa has been hit hard by the injury bug recently. Top defensemen Thomas Chabot and Jakob Chychrun each sustained injuries that will keep them out multiple weeks. On Thursday, Travis Hamonic joined the battered blue line when he was unable to finish the overtime win against the Philadelphia Flyers with a lower-body injury. Hamonic didn't play Saturday.
Goalie Mads Sogaard left the game against Toronto after two periods with an illness and won't travel with the team to Columbus.
"We know the situation ahead of us," coach D.J. Smith said. "We've just got to win (Sunday), it's that simple. They played tonight, it's a back-to-back with travel. We've just got to win a game and then we'll refocus from there. It's been a battle with the amount of guys that have gone out. I can't fault the guys. They gave everything they had (against Toronto)."
The Blue Jackets (23-44-8, 54 points) lost their fourth straight game and 11th in 14 outings (3-9-2) on Saturday with a 7-0 shellacking by the Panthers. Columbus has been outscored 23-5 during its past four games
"With tough times like this, you've got to come together as a group," captain Boone Jenner said. "That's the only way to do it, come together. It's testing us a group. Whoever's drawing in the lineup for us that night, try to pull together. That's the best way to do it. For us, we've got a game (Sunday). We've got to regroup here and have a lot better effort."
Goalie Michael Hutchinson has started each of the past three games after relieving Elvis Merzlikins when he was injured against the Montreal Canadiens last Saturday. Merzlikins is designated as day-to-day with a lower-body injury.
Journeyman Jon Gillies currently is the backup goaltender. With Hutchinson having faced 49 shots against Florida, it's possible Gillies could make his first NHL appearance since April 28, 2022, with the New Jersey Devils on Sunday.
--Field Level Media