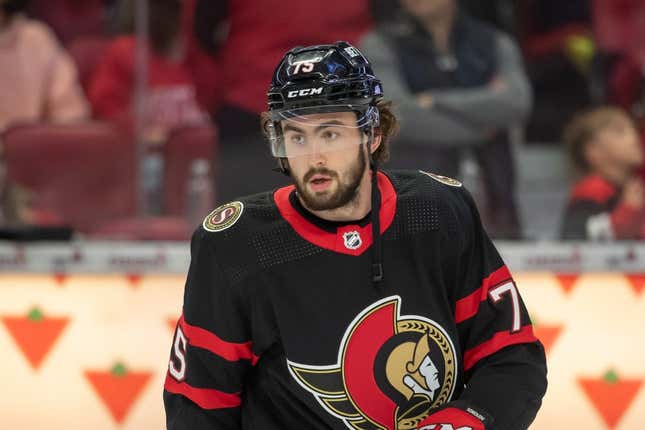 Egor Sokolov's first career goal was the game-winner as the Ottawa Senators broke a four-game losing skid, defeating the visiting Tampa Bay Lightning 7-4 on Saturday night
In just his third game this season and 11th in the NHL, Sokolov notched his first career marker when Lightning defenseman Erik Cernak fell and turned the puck over. The left winger then scored at 2:07 of the third period for a 5-3 Ottawa lead
Alex DeBrincat had a power-play goal and an assist and Mark Kastelic added one of each. Drake Batherson, Julian Gauthier, Patrick Brown and Claude Giroux (empty-netter) also scored for the Senators (38-35-7, 83 points)
Appearing for just the fourth time in the past 18 games, goaltender Cam Talbot made 20 saves.
For Tampa Bay (45-29-6, 96 points), Victor Hedman had a power-play goal and two assists. Alex Killorn and Brandon Hagel tallied on the man advantage, and Brayden Point also scored.
Steven Stamkos dished three helpers and Nikita Kucherov had two. Backup goalie Brian Elliott got his second straight start and made 33 saves. The Lightning have allowed 19 goals in the past three games
Ottawa's Erik Brannstrom collected a loose puck around the boards and fired a long shot from out top that Batherson tipped in for his 22nd marker just 30 seconds into the teams' third meeting.
Stamkos patiently waited with the puck above the left circle and whistled a shot that Killorn tipped in at the 2:51 mark for his 26th goal for the Lightning's second-ranked power play
But the home side left the ice with a 2-1 advantage after Gauthier led a three-on-two rush and wristed home his ninth goal at 10:57.
Following good pressure by the Senators in the second, Brown worked out front and found a puck off the crossbar. He flipped in his fourth goal at 6:21
Using a five-on-three advantage, Tampa Bay's power clicked again with Hagel, who extended his career-high total with his 29th, and Hedman, who potted his ninth just 28 seconds later.
With 17 seconds left in the frame, DeBrincat scooped a rebound and zipped in a sharp-angle tally, his 27th, for a 4-3 edge -- Ottawa's first power-play goal and the game's fourth.
Sokolov, Kastelic and Giroux scored for Ottawa in the third while Point notched the Lightning's only goal
--Field Level Media