You knew Montreal-Ottawa was bound to have bad blood. You maybe didn't expect it to spill just 28 minutes into the series.
The best sports movies according to Toheeb Jimoh
Midway through the second in the Habs' eventual 4-3 win, Canadiens star defenseman P.K. Subban slashed Calder-contender Mark Stone across the hands. It was vicious-looking, connecting directly with Stone's glove, and the rookie collapsed to the ice, writhing in pain, before immediately skating back to the Senators' dressing room. "Looked like he wanted to hurt me," Stone said afterward.
Subban threw up his own hands, incredulous that he had been penalized for the slash. In fact he was given a five-minute major and game misconduct, which carried an automatic ejection. You judge:
G/O Media may get a commission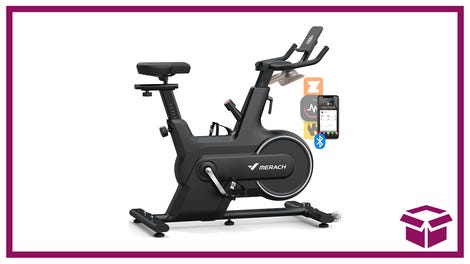 14% off + Coupon
Merach Indoor Cycling Bike
I honestly don't know why that deserved more than two minutes. I wonder if Subban would have still received the major penalty—and if we'd even be talking about this today—if Stone hadn't appeared seriously hurt. Yet Stone soon returned to the bench, leading some to accuse him of having theatricalized his pain. (You know, Mark Stone, the 22-year-old evil genius who later tried to drink out of the wrong end of a water bottle.)
That—an overzealous call—should have been the end of it. But Senators coach Dave Cameron had to go and make a threat:
"I think it's quite simple," Cameron said. "It's a vicious slash on an unprotected part of his body and you either do one of two things. I think it's an easy solution: You either suspend him or one of their best players gets slashed and you just give us five. It's not that complicated."
This is a dumb, dumb thing for Dave Cameron to say. He just made sure the NHL won't suspend Subban (which it shouldn't anyway) because it'd appear to be caving to Cameron's pressure. What's more, he just made sure any bit of aggression from Ottawa in Game 2 is going to be eyed hawkishly—and penalized freely—to keep things from getting out of hand. Hockey 101 says you get your retaliation in before you talk about it, so as to preserve plausible deniability.
So, tomorrow night's Game 2 goes one of two ways. Either the message from the league office gets through and everyone remains chill for fear of officials' quick whistles, or all hell breaks loose. If Ottawa whiz-kid goalie Andrew Hammond has any more four-goal games, this series could get ugly fast, and the play might follow.