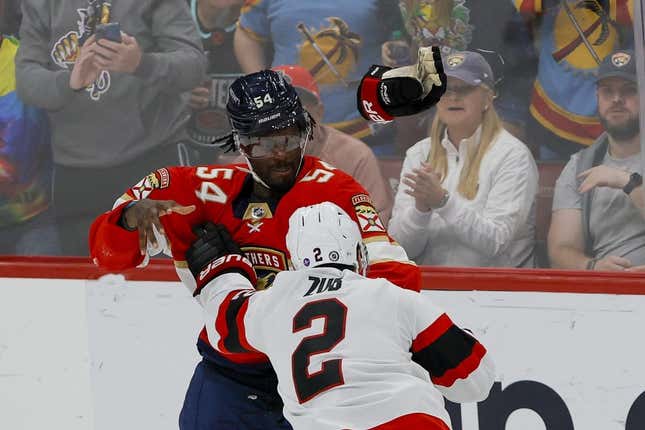 After the Ottawa Senators and Tampa Bay Lightning suffered five-goal defeats in their most recent outings, they both hope to bounce back Saturday night in Ottawa
Does Jimmy Butler have the best NBA Finals origin story? | Agree to Disagree
The lousy Thursday night for both -- Ottawa absorbing a 7-2 loss at the Florida Panthers, and Tampa Bay being thumped 6-1 at the New York Islanders -- was particularly upsetting for the Lightning, who are trying to prepare for a sixth consecutive appearance in the playoffs
Meanwhile, the Senators weren't happy about being eliminated from the playoffs for the sixth season in a row, and showed their frustration with several skirmishes on the ice
With only three games remaining, Tampa Bay (45-28-6, 96 points) lost its third in a row and sixth in nine games (3-6-0). The Lightning are battling through a spate of injuries and are already assured of facing Toronto in the first round of the playoffs, with the Maple Leafs holding home-ice advantage
For the Lightning, it was a second straight bad night in the Big Apple. With injuries mounting on Jon Cooper's team, the New York Islanders kept pace with Florida in the wild-card chase in a 6-1 throttling of Tampa Bay
Tampa Bay's greatest concern now is the injuries, which includes setbacks to Anthony Cirelli, Brandon Hagel, and Erik Cernak. Those forced Cooper to move defenseman Haydn Fleury to a forward line. Then winger Pat Maroon went to the dressing room during the contest.
However, the biggest injury was to trade-acquisition Tanner Jeannot in a tangle with Islanders' defenseman Scott Mayfield -- one Cooper deemed "worrisome."
"That's a tough one because he's a big part of our team and he was really coming into his own," Cooper said. "And to see that happen, that's a tough one to watch."
Ottawa (37-35-7, 81 points) had a bad evening on both ends of the ice in Sunrise, Fla. The Senators watched Florida goaltender Alex Lyon put on a spectacular 56-save show as they failed on special teams and lost composure in a resounding 7-2 defeat
The Panthers held a 2-0 lead after the first period, moved it to 7-1 with a five-goal second and stood tall in a feisty game.
"Obviously, there's a few that we'd like back, but their goalie put a clinic on," Smith said of his squad. "I don't think that's a 7-2 game, I think everyone knows that. They had some tips and they had some things and we've got to find ways to score."
The home side found a way on the power play: Florida went 3-for-6 while the Senators were 0-for-6, including two full minutes of a five-on-three advantage
Especially harsh: At the end of the Senators' two-man advantage failure, the Panthers' Nick Cousins scored 11 seconds after leaving the penalty box
Midway through the match, Ottawa captain Brady Tkachuk received a game misconduct after fighting twice on the same play. Smith was ejected with 6:52 left, and Mark Kastelic was also booted.
"Everybody had everybody's backs out there," first-line right winger Drake Batherson said. "Some stuff went down, and that's hockey and it's going to happen, but their goalie made some big stops."
--Field Level Media