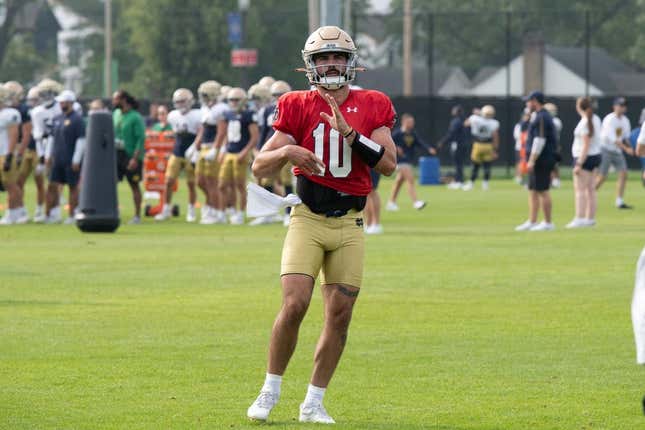 Rising seniors, super seniors and sixth-year exceptions have nothing on Notre Dame "senior citizen" Sam Hartman.
How running an NFL team is like running a restaurant | Chef Emeril Lagasse
The Wake Forest transfer walked into the Fighting Irish program with an established record for leading, competing and winning. None of the context put ample emphasis on what the quarterback can do for Notre Dame if you ask head coach Marcus Freeman.
Hartman leads No. 13 Notre Dame in a "Week 0" matchup with Navy on Saturday that was originally scheduled to be played in Dublin in 2021. Two years later, the stage remains Ireland, but the Fighting Irish cast has changed.
"Sam Hartman, this was his fourth time being named a captain," Freeman said this week. "So three times at Wake Forest and then one time here. There's no substitution for experience. None. I don't care if you're the head coach or the quarterback. That's what gives me confidence in Sam Hartman.
"There's nothing that's going to be able to make him too high or too low. He's thrown interceptions. He's made bad decisions. He's made great plays and long touchdown throws. He knows what to expect. That's the No. 1 thing he brings, but he also makes those guys around him better. He's starting to challenge other positions. He challenges his offensive line in his own way. He's raising the play of the people around him. That gives me confidence that this guy — this ain't his first rodeo. He's been in the fire multiple times."
Notre Dame was 9-4 last season, Freeman's first as head coach. Leading passer Drew Pyne transferred to Arizona State.
Hartman, dubbed "senior citizen" by offensive lineman Charles Jagusah, turned 24 in July. He's in his first and potentially last semester at Notre Dame as a sixth-year senior who could move on in January to prepare for a pro career.
While in South Bend, he's doing his part to bring teammates along with him. That could play out by gifting every teammate a pair of custom Beats by Dre headphones — Hartman signed an NIL deal last month — or in jawing with cornerbacks who give his wide receivers too much cushion in coverage.
"It's different. It's special here," Hartman said earlier this month. "There is a lot of eyes which is pretty obvious at the point. You never really know until you're out of it what it means to be in this position. As much as I can, trying to soak it in."
In addition to Hartman, 11 other graduates and upperclassmen are pegged to start this week.
Seniors, including Hartman, all had the opportunity to speak to their Fighting Irish teammates about leadership and lessons learned during their time in the program between spring and fall practices. Freeman said the messages and chemistry developed from getting to know teammates at a deeper level has already shown up in a few different ways. That includes the team vote for captains, which resulted in 10 players receiving at least 10 votes.
"I believe that's what will be our edge, is our leadership," Freeman said. "And we have a lot of leaders. We have a lot of guys that are in leadership positions. But I think the team did a great job, our coaching staff did a great job of really promoting leadership, helping to build leadership."
—Field Level Media