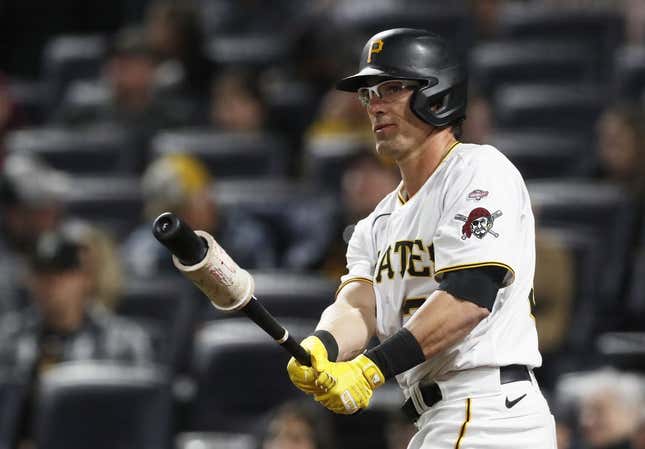 For a weekday afternoon game in April, the rubber match in a series Thursday between the Pittsburgh Pirates and visiting Los Angeles Dodgers shapes up as fairly meaningful
Bass' ERA stinks, but not compared to who he is off the mound | Worst of the Week Countdown
The Dodgers are trying to regain the dominance of their monster 2022 season, when they won 111 games. There were some hints that it might be happening when they stormed back from a five-run deficit to win the series opener Tuesday 8-7 for their second three-game winning streak of the year
Then Wednesday happened. Instead of Los Angeles notching its first four-game streak, the upstart Pirates dominated at the plate and on the mound for an 8-1 win. They're not only leading the Central Division early in the season, they're tied for the best record in the National League
"Resilient. That's what I've said about this group all year long," Pittsburgh manager Derek Shelton said. "(Tuesday) night was a tough loss. ... And for (Roansy Contreras) to come to come out and do what he did -- execute pitch after pitch -- that's not easy to do."
Contreras started Wednesday and no-hit the Dodgers through five innings and left after six scoreless innings
Despite the Pirates' great night -- the pitching, the eight runs, 12 hits and six stolen bases -- they had to share the spotlight. Drew Maggi, who has logged 1,155 minor league games over 13 seasons, received a rousing ovation when he finally made his major league debut, striking out as a pinch-hitter in the eighth
"It was emotional in our dugout, man. That was cool," Shelton said.
It was different in the Dodgers' dugout
Los Angeles manager Dave Roberts sees, in particular, problems in the bullpen, which gave up all eight runs Wednesday after starter Tony Gonsolin went just 3 1/3 innings.
"The consistency of those guys hasn't been there for the most part, and you look at the track records, (they're) pretty good," Roberts said of his relievers. "I'm going to keep running them out there until ultimately something changes."
The Dodgers can still win their second straight series with a victory on Thursday. Pittsburgh will be chasing its third consecutive series win
Los Angeles left-hander Julio Urias (3-2, 3.33 ERA) is scheduled to oppose Pittsburgh right-hander Mitch Keller (2-0, 3.64).
On Friday, Urias gave up five runs and seven hits in 3 1/3 innings and took the loss in a 13-0 drubbing by the host Chicago Cubs, who held the Dodgers to one hit. It was the first time this year Urias did not at least get to the sixth
"It's just one of those bad games. Obviously, we'll look at the video and make those adjustments and go through the game plan," Urias said through an interpreter.
Urias is 3-2 with a 3.19 ERA in seven career games, four of them starts, against Pittsburgh.
Keller has four quality starts in a row. Most recently, he earned a win Friday against Cincinnati, giving up two runs and four hits in six innings.
The outing left an impression on Reds manager David Bell.
"We've seen Mitch Keller a lot, and that might have been the best stuff we've seen him have," Bell said. "He's a good pitcher, but his stuff was really good."
Keller is 1-1 with a 7.04 ERA in two career starts against the Dodgers. He has lasted just 7 2/3 innings combined in those appearances, surrendering seven hits and eight walks
--Field Level Media