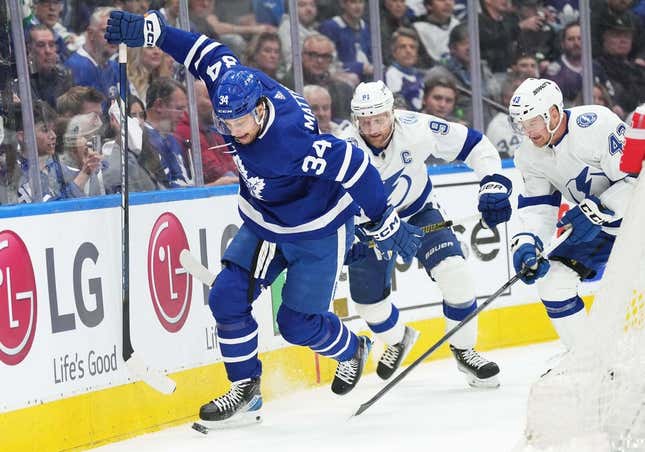 The Tampa Bay Lightning are keeping calm as they get set to host the Toronto Maple Leafs in Game 3 of their first-round series of the Stanley Cup playoffs on Saturday
Air Jordans are more American than McDonald's French fries | Deon Cole's Ultimate Sports Fantasy
The Lightning, who opened the series with a 7-3 win in Game 1, were blown out 7-2 by the Maple Leafs on Thursday, knotting the series at a game apiece
"It's a seven-game series," Lightning coach Jon Cooper said after the loss. "It's not a one-game one-and-done. We'll be all right.
Tampa Bay was without top defensemen Victor Hedman and Erik Cernak in the loss, but the Lightning aren't using their absences as an excuse. Both were hurt in Game 1; Hedman played just 6:35 while Cernak was injured when he was hit by Michael Bunting, who will serve the second game of his three-game suspension Saturday
"Everyone in this room knows how important they are to our back end," Lightning captain Steven Stamkos said. "But no one's feeling sorry for you if you're missing guys, especially at this time of the year. That's unfortunately part of the game
"Obviously tough to see them both not be able to play. Very, very good players, very important to us, but we still felt confident that if we put our game plan together that we could make a competitive effort, but we didn't stick to the game plan."
The first two games of this year's series are the reverse of the outcomes of the playoff matchup between the division foes last spring. In 2022, Toronto won the first game handily at home while Tampa Bay skated away with a victory in Game 2. The Maple Leafs responded in Game 3 when the series shifted to Tampa
Toronto held the series lead three times, including after five games, before the Lightning ultimately took it in seven
While the Maple Leafs have been projected by many to take this year's matchup, their past inability to win a first-round playoff series -- they last made it beyond the first round in 2004 -- continues to hover over the club
"There's nothing that I can do or we can do to change the past. It's about what's in front of us, what's here today," Auston Matthews said. "I think that's just the main focus in this group, is taking it a game at a time. Just being in the moment is the most important part for us. Can't change what's happened in the past."
The Maple Leafs are happy with how they responded Thursday after being blown out in the opener but know they can't rest on their laurels as they become the visitors, and they expect a response from the experienced Lightning
"We have to continue to get better, knowing it will get harder," coach Sheldon Keefe said. "We're in a best-of-five series now and we don't have home ice now. That's the reality and you're just hoping your group continues to rise."
Special teams have been key in the series thus far. The Lightning scored four of their seven goals with the man-advantage in Game 1 while the Maple Leafs converted twice in Game 2. Overall, Tampa Bay has four goals on 11 opportunities (36.4 percent) while Toronto is clicking at 40 percent, with four goals on 10 opportunities
--Field Level Media