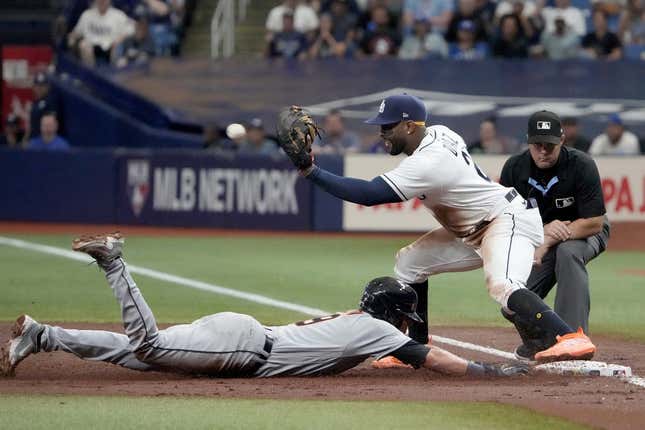 Jose Siri and Josh Lowe totaled four RBIs in a seven-run third inning, Zach Eflin won in his pitching debut for his childhood team, and the Tampa Bay Rays demolished the Detroit Tigers 12-2 Saturday in St. Petersburg, Fla
Bass' ERA stinks, but not compared to who he is off the mound | Worst of the Week Countdown
In their second win in as many games, the Rays scored the seven runs on six hits, and Yandy Diaz added two runs with a home run the following inning
Diaz went 3-for 4 with a homer, double, three RBIs and three runs. Wander Franco was 3-for-4 with two doubles, three RBIs and a run. Josh Lowe had two doubles and two RBIs.
Eight of the Rays' 13 hits went for extra bases -- seven doubles and a homer. They also struck out 15 times
Hailing from nearby Orlando and a frequent fan at the domed stadium while a high school star, Eflin (1-0) pitched five innings of one-run ball. Over 74 pitches, he yielded three hits and a walk while striking out five.
In his first start since Tommy John surgery in July 2021, Detroit's Spencer Turnbull (0-1) was battered for seven runs on eight hits in 2 1/3 innings.
The Tigers' Kerry Carpenter was 2-for-4 with two doubles and two runs. Miguel Cabrera and Austin Meadows singled in runs
After winning 4-0 Thursday on Opening Day, the Rays appeared set to pounce on Turnbull in the first inning for their first explosive frame of the season
Diaz and Brandon Lowe singled right away, and Randy Arozarena followed with an RBI double to right for a 1-0 lead. But after loading the bases by walking Franco, Turnbull struck out Luke Raley and got Siri on a double-play grounder.
With eight of their first 12 batters reaching base but scoring just once, the Rays finally found that explosive output two innings later
Siri laced a two-run double down the third-base line, and Josh Lowe duplicated the feat with a drive to right. RBI singles by Francisco Mejia, Diaz and Franco completed the seven-run outburst.
After Cabrera put a single into right in the fourth for the Tigers' first run, Diaz lasered his first homer into the left-field seats - with a 112.8 mph exit velocity
In the sixth, Meadows' RBI single made it 10-2, and Franco hit a two-run double in the seventh to close the scoring.
--Field Level Media