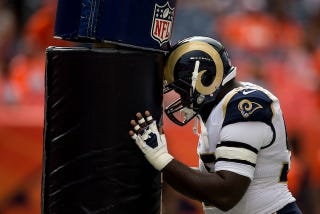 William Hayes of the Rams was pretty pissed off about losing Sunday's game to the Titans, his former team. When Hayes got to the locker room after the game, there was this mirror there that just wouldn't stop looking at him funny. So Hayes punched the mirror with his forearm.
The mirror shattered, because that's what mirrors tend to do when when you hit them hard enough. Hayes cut his forearm pretty badly, because that's what tends to happen when you hit a mirror hard enough. The shattered mirror and a pool of blood had to be cleaned up before the media could enter the locker room for postgame interviews.
Hayes, who got stitches and has continued to practice with his arm wrapped, admitted he "probably took things a little too far" and chalked it all up to frustration:
"The mirror was in the wrong place at the wrong time. I kind of took it a little overboard. Emotions came out and got the best of me."
Stupid mirror.
Photo: Getty