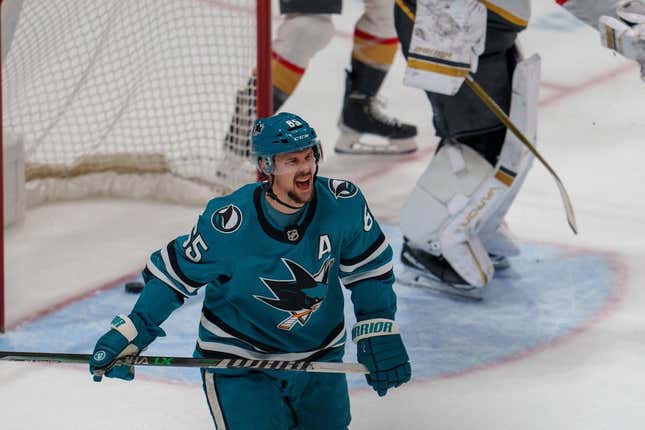 Two teams heading toward the finish line of disappointing seasons will meet Saturday when the Arizona Coyotes host the San Jose Sharks in Tempe, Ariz
Can the Florida Panthers make a comeback? | Agree to Disagree
The Sharks (21-39-15, 57 points) are coming off a 4-3 overtime win over the visiting Vegas Golden Knights on Thursday for their second straight victory after a nine-game losing streak (0-6-3). Prior to these past two games, San Jose had posted a 3-14-4 record since it last won consecutive games on Jan. 28 and Feb. 7, which straddled the All-Star break
"I'm excited about a lot of things that happened tonight," said San Jose coach David Quinn, whose team will miss the playoffs for the fourth straight season.
"There's been a lot of change here in the last month and a half, and all we want to do is give a good effort -- an honest effort and compete. And we did that tonight in spades."
The Sharks jumped out to a 2-0 lead against the Knights on first-period goals by defenseman Mario Ferraro and Oskar Lindblom before the Knights tied the game at 2-2 at the 1:08 mark of the second
Tomas Hertl regained the lead for the Sharks at the 11:47 mark of the second period before the Knights tied the game midway through the third
But captain Logan Couture scored on a breakaway just 50 seconds into overtime for the Sharks, who received 23 saves from James Reimer
Defenseman Erik Karlsson leads the Sharks in assists (69) and points (91) to go with 22 goals. Couture has a club-best 26 goals to go along with 36 assists for 62 points, three ahead of Hertl (21 goals, 38 assists)
Arizona (27-36-13, 67 points), which will miss the playoffs for the third straight season, extended its losing streak to six games (0-4-2) with a 5-2 loss against the visiting Dallas Stars on Friday.
After goals by defensemen Juuso Valimaki and Connor Mackey gave the Coyotes a 2-1 lead, the Stars scored twice in the second period and added two tallies in the third
Clayton Keller assisted on Valimaki's goal, extending the former's point streak to 14 games, the longest since the franchise relocated from Winnipeg in 1996. Keller ended March with 24 points, three off the franchise record for a month.
"He works hard every day and competes. He drives the bus in the sense that, for him, it's 2-0 and it's never over," Arizona coach Andre Tourigny said. "There are games this year where we had every excuse to stop and this guy, down by two or three, he's at the bench mad and wants to compete and wants to make it happen. It's the same old Kells."
Keller has team highs in goals (36), assists (46) and points (82), while Nick Schmaltz has contributed 21, 33 and 54, respectively.
San Jose will be looking to sweep all three of the teams' meetings this season. The Sharks posted a 3-2 win on home ice on Dec. 13 before knocking off the Coyotes 4-2 on the road on Jan. 10
--Field Level Media