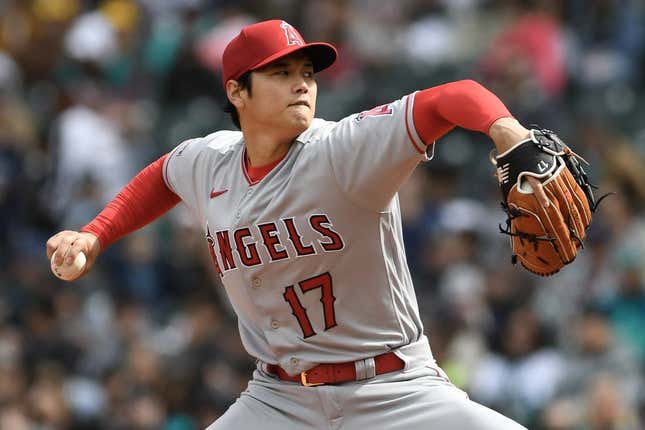 Shohei Ohtani will make his third start on the mound this season on Tuesday night when the Los Angeles Angels host the Washington Nationals in Anaheim, Calif
Bass' ERA stinks, but not compared to who he is off the mound | Worst of the Week Countdown
As if he doesn't have enough responsibility when he pitches and also when he serves as the club's designated hitter, Ohtani has decided to call his own pitches this year.
A week before the start of the season, Major League Baseball approved pitchers to use PitchCom -- a communication device pitchers and catchers use to call pitches. Until this season, only catchers would use the device to call a pitch, leaving the pitcher to nod yes or no.
With MLB's approval, Ohtani now makes his pitch selection and alerts the catcher. He has the device under his jersey near his left shoulder. And with the pitch clock in play, a quick decision is important.
"Shohei's got so many pitches he can throw," Angels manager Phil Nevin said. "So for him to go through 'em and shake and shake and shake -- time's running out because that thing doesn't say it quick enough sometimes.
Rookie Logan O'Hoppe caught Ohtani in his first two starts, and the two seem to be on the same page. Ohtani (1-0, 0.75 ERA) has given up just one run and struck out 18 in 12 innings.
"They're pushing buttons, they're making eye contact," Nevin said. "It's a little different dynamic than we've seen in the past, obviously, but however they get there is fine with me."
O'Hoppe said he has no problem leaving the pitch selection to Ohtani.
"He's been in the league long enough now where he knows what he's doing better than anybody," O'Hoppe said.
Ohtani has yet to take the mound against the Nationals
Fellow right-hander Josiah Gray (0-2, 4.91) will make his third start of the season for Washington.
Although he didn't get a win his last time out last Thursday against Colorado, he made improvements -- particularly with his slider -- and it resulted in him allowing just one run in six innings.
"I located it a lot better," Gray said of his slider. "I was trying not to get too fine with it, trying to know that when I'm trying to get it to a spot, to just get it to that area, at least. ... Just trusting it."
Nationals second baseman Luis Garcia was not in the starting lineup in Monday's 6-4 win over the Angels. He has missed the last three games with a strained hamstring but could return for Tuesday's contest
Angels third baseman Anthony Rendon originally was in Monday's lineup before becoming a late scratch. Rendon has a sore left shoulder, the result of being hit by a pitch in the ninth inning in Sunday's game. He is day-to-day
Angels right fielder Hunter Renfroe, after a slow start to the season (4 for 27, no extra-base hits, one RBI in his first seven games) has found his stroke. He homered Monday for the third game in a row and is 7-for-12 with two doubles, three homers and eight RBIs in his last three games
Nationals manager Dave Martinez is expected back in the dugout Tuesday after feeling under the weather and missing Monday's game
--Field Level Media