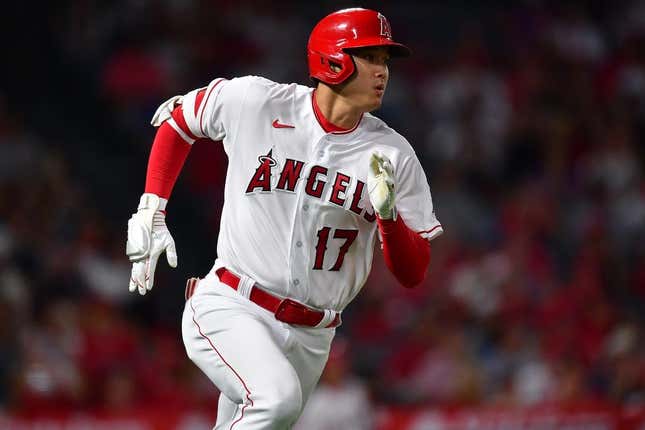 Two teams struggling to stay in playoff contention meet Wednesday in a day-night doubleheader when the Cincinnati Reds oppose the Los Angeles Angels in Anaheim, Calif.
How running an NFL team is like running a restaurant | Chef Emeril Lagasse
The twin bill was necessitated by the heavy rains from Tropical Storm Hilary that flooded many areas of Orange County on Sunday. Monday's Reds-Angels game was postponed and was rescheduled for Wednesday night.
In the first game, Los Angeles will throw superstar Shohei Ohtani (10-5, 3.17 ERA). The right-hander has not allowed an earned run in 19 1/3 innings. He allowed one unearned run against the San Francisco Giants over six innings in his latest start on Aug. 9. His next turn in the rotation was skipped due to arm fatigue.
The Reds will counter with their most consistent pitcher this season, rookie Andrew Abbott (8-3, 2.99 ERA). The left-hander allowed six hits and two runs over five innings in his most recent start, a 7-2 win over the Cleveland Guardians on Aug. 16.
The Angels will give the ball to lefty Reid Detmers (3-9, 4.93 ERA) in the second game. On Aug. 16 at Texas, Detmers had the strongest outing of his season when he carried a no-hitter through 7 1/3 innings before Marcus Semien doubled.
Detmers earned the win after logging a season-high 7 1/3 innings, allowing the one hit and four walks with five strikeouts.
Los Angeles had not announced a starting pitcher for the nightcap.
Ohtani and Detmers will be making their first career starts against Cincinnati, and Abbott has never opposed the Angels.
The Angels' playoff push for the final five weeks of the season will rest on the shoulders of Mike Trout and Ohtani. Trout returned on Tuesday and went 1-for-4 against the Reds after missing 38 games with a fractured hamate bone in his left hand.
During his comeback, Trout faced live pitching only once, on Thursday, and didn't go out on a rehab assignment.
"It was a long time coming, but I'm just excited to be back out there," Trout said. "I talked to some doctors, and they said I can't injure it more. There's definitely going to be soreness in there, but I'm just happy to be out there with the guys."
The Angels went 16-22 without the three-time AL MVP and are just 5-14 in August after a 4-3 loss to the Reds on Tuesday.
"We went through a little stretch there, but we have (36) games left," Trout said. "Obviously, this isn't where we wanted to be right now, but we're not giving up. But we're running out of time, so I expect to try to be in there every day."
The Tuesday game was a return for not just Trout. Cincinnati's Spencer Steer and Matt McLain had many friends and family in attendance at the series opener, as both played their high school baseball less than 20 miles from Angel Stadium.
Both Steer and McLain grew up Angels fans and fans of Trout.
"I hope he hits a ground ball to me," said McLain, who caught Trout's pop fly in the first inning and started a double play off Trout's grounder in the third Tuesday night.
The Reds, like the Angels, have slumped badly in August, winning just five of 17 before rallying on Tuesday for their 38th comeback win.
The contest marked a winning start of the Reds' 10-game swing through Anaheim, Phoenix and San Francisco. Cincinnati is 27-12 in its last 39 road games.
"This is a huge 10-game road trip against really good teams and the two teams that we're fighting against for some wild-card spots," Steer said. "So, just play our game, our style of baseball, and hopefully we come out of this road trip with a lot of wins."
—Field Level Media