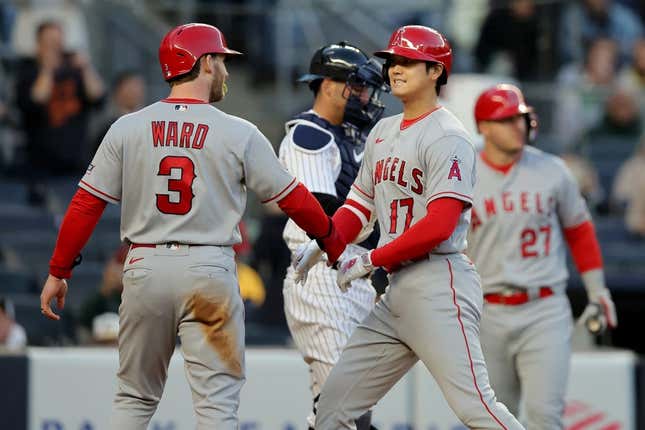 Shohei Ohtani typically does not take batting practice on the field, but he decided to do so and hit several homers in his rehearsal at Yankee Stadium on Tuesday afternoon.
Bass' ERA stinks, but not compared to who he is off the mound | Worst of the Week Countdown
After socking a homer that counted and helping his team win, Ohtani seeks another productive showing when the Angels oppose the New York Yankees in the middle game of a three-game series on Wednesday night
The Angels began quickly on Tuesday and never trailed in a 5-2 victory thanks to Ohtani
He hit his fourth homer of the season two batters in and scored another run after stealing his first base of the season in the fifth inning.
"Beautiful field," Ohtani said through an interpreter. "Passionate fans. I always look forward to playing here. It's really fun playing here."
Ohtani is now hitting .206 (13-for-63) with eight homers and 14 RBIs in 18 games against the Yankees. In New York, he is 6-for-39 (.154) with four homers and seven RBIs
Overall, Ohtani is hitting .300 this year to go along with a .916 OPS.
"He thrives in any atmosphere," Angels manager Phil Nevin said. "You could put him on a back field and no one's watching, he's going to have the same competitive nature as he does in front of 40,000 at Yankee Stadium. That's what makes him special, what makes him one of the best in the game.
New York was not necessarily hurt by Clarke Schmidt's inability to keep Ohtani from going deep but a quiet night at the plate.
The Yankees are hoping to avoid their second losing streak and fourth loss in six games after mustering four hits and not being able to capitalize on seven walks, including six off Los Angeles starter Jose Suarez. New York also was held without a homer for just the second time in 17 games this season
"It's amazing what he's doing," New York manager Aaron Boone said of Ohtani on Tuesday afternoon. "It really is. I know it's been said every which way of course and how people marvel at it, but rightfully so."
New York star Aaron Judge added, "They got something special in L.A., and I'm just gonna admire him from afar."
The Yankees scored their runs Tuesday on a walk by rookie Anthony Volpe and a sacrifice fly by Judge
The Yankees were hoping to get Josh Donaldson back from a hamstring injury, but Boone said the third baseman is unlikely to return Wednesday
Jhony Brito (2-1, 6.75 ERA), who is coming off the worst of his three career starts, takes the mound for the Yankees on Wednesday. After allowing a total of one run in his first two outings, the right-hander got two outs and allowed seven runs on six hits during an 11-2 home loss to the Minnesota Twins on Thursday
Angels right-hander Griffin Canning (0-0, 3.60 ERA) will make his second appearance since returning from a serious back injury that cost him all of 2022 and the final two months of 2021. Canning had not pitched since July 2, 2021, until April 12, when he allowed two runs on five hits in five innings against the Washington Nationals
Canning will be making his first career start against the Yankees
--Field Level Media