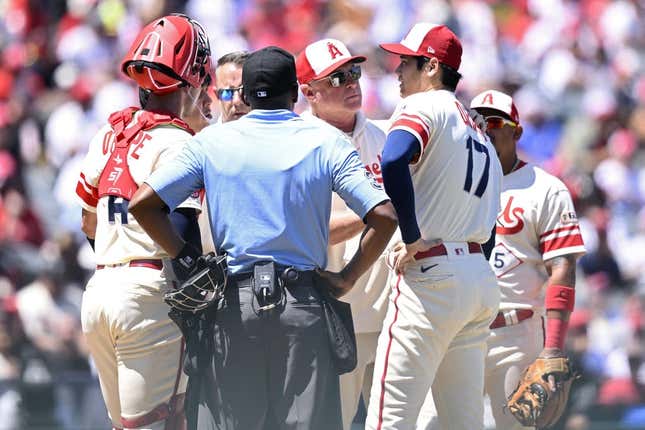 The dreadful end to the 2023 season for the Los Angeles Angels and Shohei Ohtani became a full-blown nightmare on Wednesday, as the club announced the two-way star has a torn ulnar collateral ligament in his pitching elbow and will not pitch again this season.
Is Texas or Florida State a bigger national title contender? | Agree to Disagree
Making matters worse, the Angels also will put center fielder Mike Trout back on the injured list after just a two-day return.
Speaking with the media after his club was swept in a doubleheader by the visiting Cincinnati Reds, Angels general manager Perry Minasian said Ohtani underwent an MRI exam between games, with the results confirming the tear.
"He won't pitch the rest of the year," Minasian said. "We're going to get a second opinion and go from there. But it's basically day to day."
Minasian would not commit to whether Ohtani would need surgery. The right-hander started the first game of the doubleheader but left after 26 pitches with what was initially called arm fatigue.
With a 2-2 count against the Reds' Christian Encarnacion-Strand, Ohtani came off the mound and appeared to be in pain. Manager Phil Nevin and the training staff came out and removed Ohtani from the game.
An inning earlier, Ohtani hit his major-league-leading 44th home run. He also played in the second game, serving as the designated hitter and going 1-for-5 with a double.
The injury — especially if Tommy John surgery is required — could be a huge blow for the 29-year-old Japanese star. He is set to become a free agent after the season and was widely expected to land the biggest contract in major league history.
The three-time All-Star and 2021 American League MVP was having perhaps his greatest season yet, leading the majors in home runs, triples (seven), slugging percentage (.664) and OPS (1.069). He also has 22 doubles and 91 RBIs.
On the mound, he is 10-5 with a 3.14 ERA while holding batters to a .183 average. Ohtani underwent Tommy John surgery following the 2018 season and played in 106 games the following season (though he did not pitch or play in the field at all, only serving as a designated hitter).
Also during the news conference, Minasian told reporters that Trout, who didn't play either game on Wednesday, would be placed back on the IL. Trout missed 38 games following surgery to repair a broken bone in his hand. He came back on Tuesday and went 1-for-4.
The three-time AL MVP hasn't played in more than 140 games since 2016. This year, he is batting .263 with an .858 OPS, 18 home runs and 44 RBIs in 82 games.
With the possibility of losing Ohtani this offseason looming over the Angels all season, the club decided it was close enough to a playoff spot to hold onto the star and then added players at the trade deadline. But Los Angeles has fallen apart since then, going 5-16 in August and ending Wednesday 10 1/2 games out of a wild-card spot.
—Field Level Media