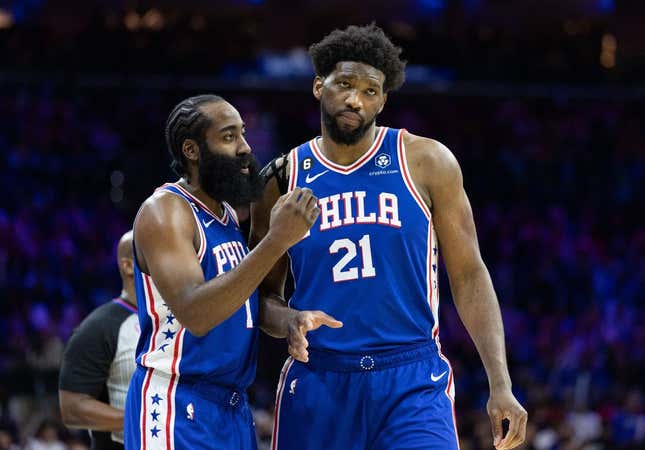 The Philadelphia 76ers are on the verge of advancing to the Eastern Conference finals for the first time since 2001
Aaron Rodgers should go full Joe Namath | Comedian Bert Kreischer
They just need one more victory.
The Sixers will look to eliminate the Boston Celtics in Game 6 of the Eastern Conference semifinals Thursday in Philadelphia. The Sixers took a 3-2 series lead with a 115-103 victory in Game 5 on Tuesday in Boston
Joel Embiid led the way 33 points despite nagging knee soreness, and Tyrese Maxey added 30.
"What we did tonight, it's easier said than done. But we have to do it again," Embiid said.
That has been the problem for the Sixers since '01. They just haven't been able to get past the semifinal round, and this represents the best chance they've had.
The Sixers previously entered a Game 5 situation tied at 2-2 in 2019 when they suffered a 36-point loss to the Toronto Raptors, and last season when they fell by 35 to the Miami Heat. Now. they are in the driver's seat.
The Sixers also received 17 points, 10 assists and eight rebounds from James Harden and an unexpected spark of 10 points and five rebounds from Danuel House Jr. in 15 minutes.
"Listen, you go with your gut," coach Doc Rivers said. "I can tell you we talked about it painstakingly yesterday and today -- between three guys, who to play. And I can tell you House was not the pick. But I just picked him. I thought we needed size and we needed athleticism, and that's something he has.
"I also thought that he's the guy who's played with James the most, and he knows how to play with James. So I thought that was important."
After squandering a 2-1 series lead, the Celtics now must find a way to come up with a huge victory to push the series back to Boston for Game 7 on Sunday
Jayson Tatum paced the Celtics with 36 points but shot 11-for-27 and Jaylen Brown added 24
Al Horford missed all seven of his 3-point attempts, and Boston's defense struggled in the second half.
If the Celtics hope to extend the series, it's their defense that must improve
The Celtics can take encouragement from the fact that they won Game 6 on the road last season against the Milwaukee Bucks and then captured the series in seven games
While this situation is uncomfortable, Boston has this experience to draw on.
"We've been in this position before," Horford said. "It's not ideal. But we still have an opportunity. We understand what it takes to go on the road on Thursday."
For the Celtics, it's not about statistics anymore. It's about doing what is necessary to win
"If you're not willing to pretty much get dirty, if you're not willing to bleed, if you're not willing to break something, willing to tear something going hard, then you shouldn't be on that court, because that's what it is," Marcus Smart said. "That's what the playoffs are about. Hopefully you stay safe, but that's the mentality. You gotta go, you gotta be willing to risk it all for these games.
"And that's the mentality we've got to have."
--Field Level Media