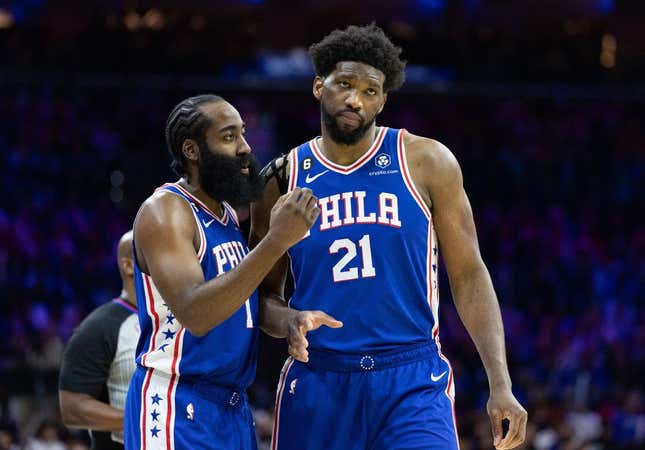 The Philadelphia 76ers will look to complete a five-game road trip with a 4-1 record when they face the Minnesota Timberwolves in Minneapolis on Tuesday.
How running an NFL team is like running a restaurant | Chef Emeril Lagasse
The Sixers won for the third time in four games, downing the host Indiana Pacers 147-143 on Monday, just two days after picking up an impressive 133-130 victory over the Milwaukee Bucks to snap their 16-game winning streak.
Joel Embiid scored 42 points and James Harden added 14 points, 20 assists and nine rebounds against Indiana. Harden became the first Sixer in franchise history to produce two games of at least 20 assists in the same season.
"The great thing about James is he doesn't turn the ball over," Sixers coach Doc Rivers said after Harden committed just one turnover. "Also, he makes smart passes. It makes us so hard to beat with his ability to pass."
Embiid went 19-for-19 from the free-throw line, which set a franchise record for the most free throws made in a game without a miss.
Tyrese Maxey contributed 24 points and Jalen McDaniels had 20 in his first start with the Sixers, who played without P.J. Tucker and Tobias Harris.
Tucker and Harris were injured at Milwaukee, but both are expected to be available to play against the Timberwolves.
No matter the role, McDaniels insists that he'll be ready.
"Just play my game every day and not try to do too much," McDaniels said during a postgame interview on NBC Sports Philadelphia. "Just run the floor with a high motor and when I get my opportunity, make the best of it."
The Timberwolves will look for their fourth victory in a row when they battle the Sixers.
Minnesota compiled impressive road wins over the Los Angeles Clippers, Los Angeles Lakers and Sacramento Kings. The Timberwolves outlasted the Kings, 138-134, on Saturday.
Anthony Edwards led the way with 27 points and eight assists and Mike Conley added 24 points. Jaden McDaniels scored 19 points, Kyle Anderson contributed 18 points, nine assists and seven rebounds and Rudy Gobert had 13 points and 14 rebounds.
Nickeil Alexander-Walker (16 points) and Naz Reid (10) also reached double figures in the balanced effort.
"To be the new guy, it's not about stepping on toes, it's about doing what you need to do," said Alexander-Walker, who was acquired by Minnesota along with Conley from the Utah Jazz. "We want to win, we want to get better. We're trying to make a push. Being in an environment like that is going to give anyone confidence."
It was Edwards who helped seal the win against Sacramento with two clutch baskets in the final few minutes.
"I thought we played great all night long," Timberwolves coach Chris Finch said. "Especially when they tightened it up at the end. ... We play a lot in flow. A lot of it was Anthony (Edwards) stepping up at the right time."
The inconsistent Timberwolves seem to have jelled over the past three games. Keep in mind that they're winning without key standout Karl-Anthony Towns, who remains out with an injured calf.
"I think we have really good chemistry right now," Finch said. "I think we have great leadership, we have guys who really complement each other on the floor."
--Field Level Media