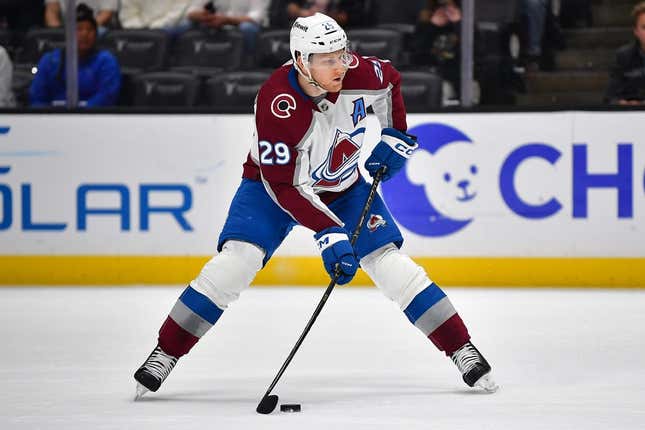 Two of the NHL's hottest teams meet when the Edmonton Oilers visit the Colorado Avalanche in Denver on Tuesday
'Soccer fandom is full of gatekeepers' says Ted Lasso actor Brendan Hunt
On top of boasting some of the game's biggest and most prolific stars, both squads will have plenty on the line when they hit the ice, including the top spot in the Western Conference.
While the Oilers (48-23-9, 105 points) are riding a seven-game winning streak and have posted a 12-0-1 record in their last 13 games, the Avalanche (49-24-6, 104 points) are on a five-game winning streak and a 14-2-0 roll. Edmonton currently sits in second in the West, while Colorado sits third behind first-place Vegas (49-22-9, 107 points)
En route to winning the Stanley Cup last season, the Avalanche claimed the top spot in the West and intend to replicate both feats this year
"We want home ice," Colorado forward Nathan MacKinnon told the Denver Post. "Obviously, I don't know if we'll catch Vegas or not, or whoever finishes first (in the conference), but home ice in our division at least is big for us."
The Avalanche have struggled with injuries all season, with captain Gabriel Landeskog yet to play a game and star defenseman Cale Makar on the shelf right now. MacKinnon and Mikko Rantanen have led the way, becoming the first Colorado teammates since 1995-96 to each reach 100 points
In Sunday's 5-4 overtime win over the Anaheim Ducks, the Avalanche jumped out to a 2-0 lead, trailed 4-2 midway through the third period and then made a comeback. Rantanen netted two goals and had two assists, while MacKinnon scored twice in a three-point game, including the winner. MacKinnon has scored the game-winning goal in four of the Avalanche's last five games
"That's why this team's been so successful," Avalanche forward Evan Rodrigues said of Colorado's dynamic duo. "You can be having a bad game, or things aren't going your way for 40, 50 minutes. And then boom, they turn it on.
The Oilers have their own stars, starting with Connor McDavid, who leads the league with 64 goals and 151 points. He is only the sixth player in NHL history to net 150 points in a season, joining Phil Esposito, Wayne Gretzky, Steve Yzerman, Bernie Nicholls and Mario Lemieux
"I hadn't put a ton of thought into it, then all of the guys kind of put a little video together of all the other five guys that have done it," McDavid said after scoring twice in a three-point performance in Edmonton's 6-1 win over the San Jose Sharks on Saturday. "It kind of hit me. That was special of them to do. To hear from all five was amazing."
McDavid has a 27-point edge on teammate Leon Draisaitl for the league's scoring crown and is 40 points ahead of Tampa Bay's Nikita Kucherov. With his next goal, McDavid will equal Alex Ovechkin's mark for the most goals in a season (65) in the salary-cap era.
The Oilers boast a third 100-point player in Ryan Nugent-Hopkins (103)
All those scoring statistics aside, the Oilers are focusing on another quest. They were eliminated by the Avalanche in last year's Western Conference finals and are looking to dethrone the champs
"You always think you can be playing better, right, but we're playing pretty well," Oilers forward Zach Hyman said. "I think we're playing our best hockey at the most important time of year, so we've got to keep building our game.
--Field Level Media