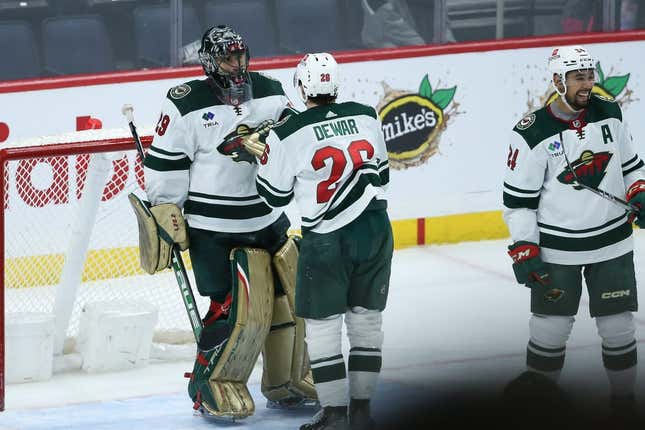 The Minnesota Wild have rocketed up the standings with an impressive 9-0-2 run, capped by Wednesday's 4-2 victory over the Winnipeg Jets to kick off a four-game road trip.
Is Texas or Florida State a bigger national title contender? | Agree to Disagree
What remains to be seen as they head into Saturday's clash with the San Jose Sharks is how the Wild will fare without star forward Kirill Kaprizov in the next stretch.
Kaprizov suffered a lower-body injury after he was on the receiving end of an awkward check from Logan Stanley -- in which the Jets defenseman landed on top of him -- and is expected to be out of action for three to four weeks.
The impact on Kaprizov, who leads the team with 39 goals and 74 points, and the rest of the Wild remains to be seen.
"Well, it's not like he's dying, so his spirits are pretty good," forward Mats Zuccarello said. "He's hurt, that's hockey. Sad news, you want everyone to play, but that's part of hockey. This time it was him."
The Wild summoned forward Samuel Walker from the minors. Walker has collected 44 points in 50 AHL games and one goal in six games with the Wild this season. However, it is expected that Sam Steel will return to the lineup and be put on the top line with Zuccarello and Ryan Hartman.
"He's Kirill, you can't replace a guy like that, but it's hockey, it happens all the time, and that's the beauty of the team -- we can do it," forward Frederick Gaudreau said. "Of course you want him to come back as soon as possible ... but we have been missing key players here and there, and we just have to keep doing it as a team."
The Sharks return home from a 4-2 loss to the St. Louis Blues on Thursday to end a three-game road swing (1-2-0).
San Jose has just one win in eight games (1-6-1), but not every loss has been a whitewashing. In St. Louis, the Sharks were tied 2-2 going into the third period, but fell just short.
"I liked our game in a lot of ways," coach David Quinn said. "Again, our mistakes were too big and ended up in the back of our net. We weren't able to capitalize on any power plays (0-for-4) and they get a big power-play goal. That was the end of the game.
"It's disappointing because we did some good things, but a couple of big breakdowns on their goals cost us."
With any hopes for the playoffs all but officially eliminated, the Sharks are searching for positives any way they can. Among them are defenseman Erik Karlsson reaching a career-high 83 points and the arrival of some of the club's top prospects.
William Eklund and Fabian Zetterlund have been skating on a line with veteran Tomas Hertl.
"I have to just keep working, especially now, I have two young guys with me, I want to help them, I want to make them better," Hertl said. "Get ready for the rest of the season and for next year. They have a lot of potential, and I have to be there for them and help them every night. Starting with, like what I tell them, I have to make smart plays, I have to make chances for them, and help them out."
--Field Level Media