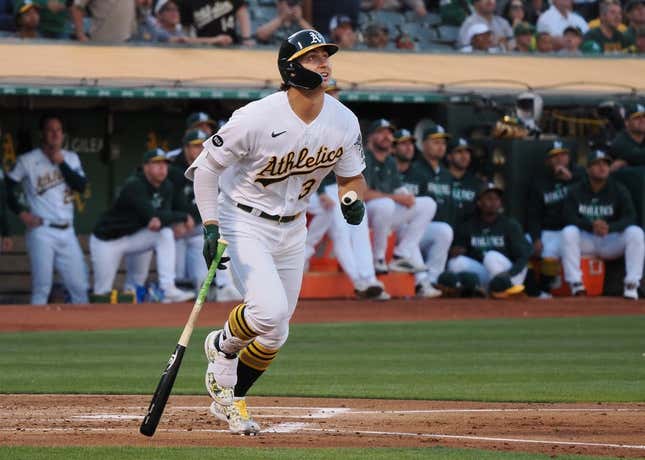 One day after teammate Zack Gelof nearly produced a magical moment in his major league debut, fellow rookie Tyler Soderstrom will make a second attempt at his first big-league hit when the host Oakland Athletics and the Minnesota Twins continue a three-game series on Saturday
How running an NFL team is like running a restaurant | Chef Emeril Lagasse
Joey Gallo was the hero of Minnesota's 5-4 win in the second-half curtain-raiser on Friday, but only after Gelof came within inches of delivering a three-run homer that would have given the hosts an early lead.
With his parents watching, and having flied out in his first major league at-bat, Gelof drilled a double high off the right field fence in the third inning. A video review confirmed that the ball hit inches below the home run line, but Gelof still had his first hit and RBI -- as well as a ball to present to his parents.
Instead of the A's taking a 4-2 lead on what would have been a three-run homer, they had two fewer runs -- which would wind up being the difference between a win and a loss.
Gelof finished the night 1-for-4 with a strikeout.
Soderstrom, promoted from Triple-A Las Vegas on the same call as Gelof, went 0-for-3 in his big-league debut, walking once and striking out once.
Afterward, A's manager Mark Kotsay admitted he was impressed by both prospects and vowed the Friday appearances were not a one-time deal.
"Both came as advertised," said Kotsay, whose team lost its fifth game in a row. "The ball Gelof hit shows his power. They both took some good at-bats."
If, as expected, they are back in the lineup in the rematch, they would face off with Twins starter Pablo Lopez (5-5, 3.89 ERA). The right-hander had the best start of his career with a four-hit, 12-strikeout shutout against the Kansas City Royals on July 5
He has allowed just four runs and 14 hits while striking out 28 over 21 innings in his past three starts.
Lopez, 27, will be facing the A's for a second time. He shut them out on four hits over six innings for the Miami Marlins in a 5-3 win at Oakland on Aug. 23, 2022.
The A's are expected to counter with Hogan Harris (2-3, 6.07 ERA). The left-hander was roughed up by the Detroit Tigers in his most recent start, torched for seven runs and eight hits in 4 2/3 innings during a 9-0 road loss on July 6.
He went 0-2 with a 9.20 ERA over his past three starts, during which he allowed 22 hits in 14 2/3 innings.
The 26-year-old rookie has never faced the Twins
When he does, he will be encountering the American League Central's first-place club, a distinction the Twins earned by a half-game thanks to their Friday win coupled with the Cleveland Guardians' 12-4 road loss to the Texas Rangers
While the Athletics' focus in the second-half opener was on two prospects, Twins manager Rocco Baldelli was happy to see 11 of his hitters and six of his pitchers team up for the victory on Friday
"When you put a lot of work into anything and you reach your goal -- today, it's a win -- it does feel great," he said. "We had to put in some hard work, both on the pitching side and grinding some at-bats. It was a long but satisfying game."
--Field Level Media