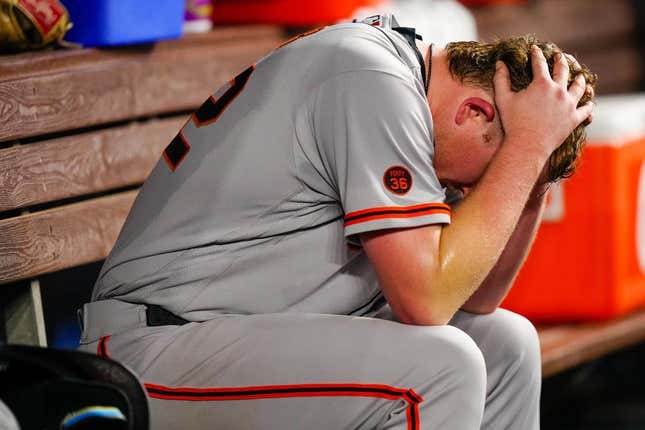 Winners of five of their past six games, the Miami Marlins will look to keep rolling when they continue a three-game series with the visiting San Francisco Giants on Tuesday night
Miami won the series opener 4-3, rallying from a three-run deficit.
With the victory, the Marlins improved to 5-0 this season in one-run games. They were 24-40 in that scenario in 2022
Meanwhile, the Giants have lost four straight, due in large part to a struggling bullpen
Through their first 15 games of the season, the Giants have the third-highest bullpen ERA in the majors at 5.93. San Francisco relievers also have two blown saves, contributing to the team's mediocre 5-10 start
Lefty reliever Taylor Rogers, who joined the Giants on a three-year, $33 million contract in the offseason, is 0-2 with an 18.90 ERA
John Brebbia is also off to a poor start after posting a 3.18 ERA in a National-League-leading 76 appearances a year ago. Through his first eight appearances this season, Brebbia has a 7.94 ERA, and he knows he needs to turn things around quickly.
"There is a problem, and it's me," Brebbia said. "Unfortunately, these things happen, and you just try and move forward."
Alex Wood (0-0, 1.17 ERA) will look to take some pressure off the Giants' bullpen on Tuesday. He is 8-5 with a 2.55 ERA in 18 career appearances (15 starts) against the Marlins
Wood was originally scheduled to pitch Monday. But when San Francisco's game at Detroit was postponed on Sunday, Wood's start got pushed back one day.
Wood could pose a challenge for the Marlins' left-handed batters, such as Jazz Chisholm Jr. and Luis Arraez. Last year, Wood held lefties to an opposing average of .193 and just one homer in 127 plate appearances
But Wood was vulnerable to right-handed hitters, as they slugged 16 homers and hit .283 across 428 plate appearances.
Then again, Arraez, who enters Tuesday batting .455, has been hot against everyone and everything. He won the American League batting title as a member of the Minnesota Twins last year and hasn't slowed down in his first season with Miami. Arraez has hit safely in eight of his last nine games.
While Arraez has been a nightmare for opposing pitchers, the Marlins are hoping that right-hander Edward Cabrera (0-1, 4.63) can limit him in the second game of the series. Cabrera, 25, has never faced the Giants in his career
This season, Cabrera has struggled with his control. He walked six batters in four innings in his first start, then issued seven free passes in just 2 2/3 innings in his second.
However, in his most recent start, he walked just one batter in five innings. Cabrera gave up two runs on seven hits and struck out four, but he had to settle for a no-decision in Miami's eventual 3-2 victory over the Phillies last Wednesday.
Cabrera's improvement has continued a strong stretch of starts for Miami's rotation.
"Our starting pitching has come together," Marlins manager Skip Schumaker said. "Early on (this season), we had some three- or four-inning starts, which is tough on our bullpen.
--Field Level Media