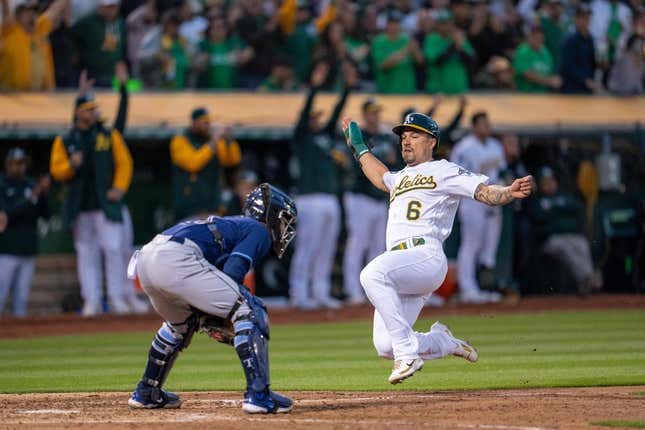 The Tampa Bay Rays will look to avoid their first three-game losing streak of the season on Wednesday night when they continue their series against the host Oakland Athletics
How running an NFL team is like running a restaurant | Chef Emeril Lagasse
The Rays were the victims of a "reverse boycott" rally that produced Oakland's biggest crowd of the year Tuesday. That fan support helped lift the A's to their seventh straight win with a 2-1 decision
The A's had 27,759 in attendance on Tuesday, one day after only 4,848 fans showed up for the series opener.
Although Oakland manager Mark Kotsay labeled Tuesday's experience as "eerie," he conceded that it helped lift his team to a postseason-type victory over the top club in the American League.
"Tonight was as close to a playoff crowd as I've experienced managing a game," Kotsay said. "The (atmosphere) was everything that stadium can be. For us to play a good game all around in front of that crowd, I couldn't be happier.
"We felt the energy on the fan side supporting us passionately. You could feel them wanting us to win that game. You could feel the electricity when we scored that run in the eighth and when we took the field in the ninth."
For the second day in a row, the A's will entrust a rookie with the challenge of defeating the Rays when right-hander Luis Medina (1-5, 7.53 ERA) takes the mound
Hogan Harris was the A's pitching star Tuesday, limiting the Rays to one run in seven innings
Medina pitched effectively in relief in a 5-2 win at Milwaukee on Friday, allowing two runs in five innings to earn his first big-league win. Four of his five losses have come in five starts.
The 24-year-old has yet to face the Rays
Tampa Bay had a seven-game winning streak that extended into last week before losing three of its last four contests.
The Rays have just four runs on 12 hits in the two losses in Oakland. Only three of their hits have gone for extra bases, including a three-run home run by Jose Siri that accounted for all but one of the team's runs in the series
Hoping for better support Wednesday will be scheduled starter Tyler Glasnow (1-0, 2.87), who has gotten progressively better in three starts since returning from an oblique injury. The right-hander's best outing was Friday at home against the Rangers in an 8-3 win, during which he allowed just one run on one hit in six innings for his first win of the season.
The 29-year-old California native has made just two starts against the A's, both in 2021, going 1-1 with a 2.13 ERA. He has never won at the Oakland Coliseum.
So far, the series has gone as Rays manager Kevin Cash had feared
"Without a doubt, they are playing better," Cash said of the A's. "They're a young team. They're athletic. They're talented. We've got to come in here and play good baseball."
--Field Level Media