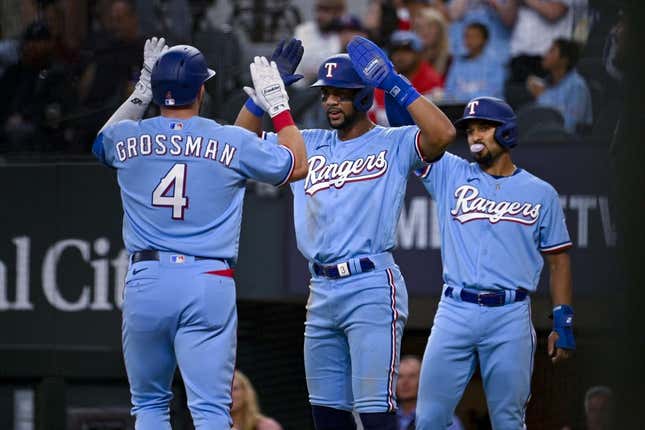 The Texas Rangers aim to continue their torrid ways on Monday when they open a three-game interleague series on the road against the reeling Cincinnati Reds
Bass' ERA stinks, but not compared to who he is off the mound | Worst of the Week Countdown
The high-octane Rangers recorded their 10th win in 13 outings with a 5-2 victory over the Oakland Athletics on Sunday
Texas is no stranger to lighting up the scoreboard, with the team's loud bats going a long way toward providing great comfort to the club's pitching staff.
"I think it is good for (the pitching staff) to know that this is a good offensive team," Rangers manager Bruce Bochy said. "These guys will pick you up.
Conversely, the ice-cold Reds have lost six in a row following Sunday's 2-0 setback to the Pittsburgh Pirates. They mustered just four hits en route to being shut out for the third time during that stretch
"We're just in between, a little bit late on the fastball and out front of the breaking ball," Cincinnati manager David Bell said. "Give (the opposing pitchers) credit, but we have to make the adjustments -- that will be our focus. Coming out (Monday) and being on time, being aggressive and being ready to hit."
Robbie Grossman and Leody Taveras were a big part of Texas' offensive output on Sunday. The former belted a three-run homer in the second inning and added a sacrifice fly in the fourth, while the latter had three hits and scored three times.
"With how capable this team is of putting runs up on the board -- a lot of runs, at times -- it's important that (the Rangers' pitchers) keep battling out there and hold them where they can and limit the damage," Bochy said. "You see it on the other side where a team has a really tough time scoring, and (pitchers) give up maybe two, three, four runs ... you don't see that being the case here a lot.
Texas right-hander Nathan Eovaldi (2-2, 5.40 ERA) snapped a two-start losing skid by tossing six strong innings in a 12-2 victory over the Kansas City Royals last Tuesday. He allowed two runs on seven hits while striking out five in that outing.
Eovaldi, 33, is 1-0 with a 0.60 ERA in two career appearances (both starts) versus the Reds
He will be opposed by Cincinnati left-hander Nick Lodolo (2-1, 4.98), who is looking to turn the corner following a disastrous outing in his last trip to the mound.
Lodolo, 25, yielded eight runs on 12 hits -- including three homers -- in 4 2/3 innings in a 10-0 shellacking by the high-powered Tampa Bay Rays on Tuesday. By comparison, he permitted four runs on 18 hits over his first three starts.
"He didn't have a good feel for his breaking ball from what I could tell," Bell said of that outing. "He doesn't have a ton of experience in this league. We've seen him be very good. There's no reason to believe he won't come back from this."
Lodolo will be making his first career start versus the Rangers
--Field Level Media