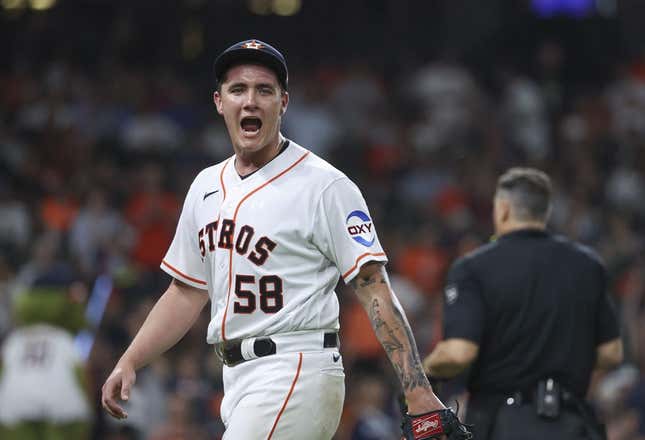 In what amounted to foreshadowing over the weekend, Houston Astros manager Dusty Baker lamented the poor results when his team can't consistently pair strong pitching with quality offense
How running an NFL team is like running a restaurant | Chef Emeril Lagasse
On Sunday, in the finale of a three-game interleague series against the visiting Cincinnati Reds, the Astros amassed seven runs on 13 hits but couldn't prevent a fourth consecutive loss. Houston fell 9-7 in 10 innings, the first time they have been swept in a series this season
Next up is another interleague opponent, the New York Mets, who will visit Houston for three games beginning Monday night
"It wasn't a very good weekend. We made a few mistakes this weekend that cost us when you're playing a hot club," Baker said, referring to the Reds, who won their eighth straight game. "When you give them opportunities, they capitalize on it. We had action on scoring a lot of runs, more than we had been in the last week or so.
"Early in the game, we left a lot of runners on base. We really could have blown that game open."
The Astros totaled six extra-base hits but were undermined by 12 runners left on base, an ill-timed double play with the bases loaded in the ninth inning, and some shaky defense. Now the Astros, who have lost nine of their last 12 games, are likely to face Mets co-aces Max Scherzer and Justin Verlander in succession to open the series
"We have no choice," Baker said on how his club can get ready for the challenge "That's the only choice that you have is to go play."
Rookie right-hander Hunter Brown (6-3, 3.35 ERA) has the starting assignment for the Astros on Monday. He tossed seven scoreless innings against the Washington Nationals on Tuesday, allowing four hits and three walks with four strikeouts in a 6-1 victory. It was the longest scoreless outing of his career and the fifth time this season he pitched at least seven innings
Brown has never faced the Mets. He is 1-1 with a 2.79 ERA in five interleague appearances (including three starts) with 20 strikeouts over 19 1/3 innings
Scherzer (5-2, 4.45), the Mets' scheduled starter on Monday, has scuffled in back-to-back starts, posting an 11.00 ERA and a 1.092 opponent OPS while allowing 18 hits and recording 12 strikeouts with no walks over nine innings. He took no-decisions as the Mets lost to the Atlanta Braves and New York Yankees. He was 3-0 with a 1.08 ERA over the previous four starts
Scherzer is 4-1 with a 3.27 ERA in eight career appearances (seven starts) against the Astros. He last faced them on Aug. 4, 2021, his first start with the Los Angeles Dodgers following his trade from the Washington Nationals. He allowed two runs on five hits and one walk with 10 strikeouts over seven innings in a 7-5 win
The Mets dropped an 8-7 decision to the St. Louis Cardinals on Sunday in the rubber match of that three-game series. They have lost two games in a row, 11 of their past 14, and are a season-worst five games under .500
The Mets did get a measure of good news when first baseman Pete Alonso returned from the 10-day injured list faster than anticipated. Initially expected to be sidelined three to four weeks with a left-wrist bone bruise and sprain, Alonso missed only 10 days. He finished 0-for-4 with three strikeouts on Sunday
"My body responded well to the treatment and the rehab, so I'm just really happy it responded well and I'm able to be in the lineup again," Alonso said.
--Field Level Media