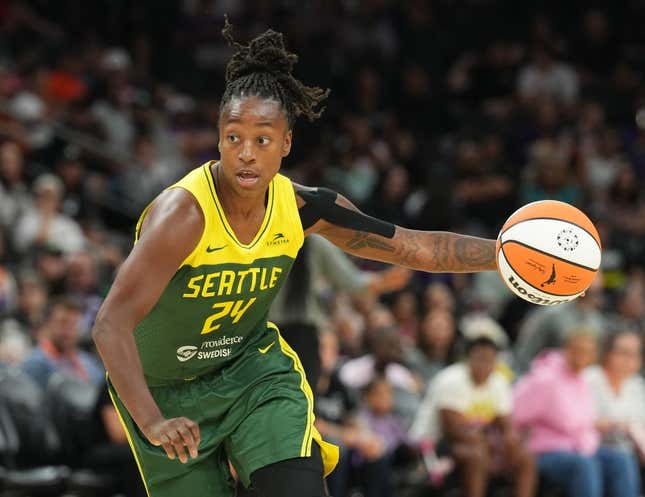 Time seems to be running out for both the Chicago Sky and Seattle Storm as it pertains to their respective postseason chances.
How running an NFL team is like running a restaurant | Chef Emeril Lagasse
Both on the outside looking in on the WNBA playoffs, the Sky look for a second win in six days over the host Storm on Sunday.
Entering play Saturday, Chicago (13-21) was 2 1/2 games out of the final playoff spot. The Sky own just one victory in their last seven games. That came at home Tuesday, 102-79 over Seattle. The Storm (10-24) are 5 1/2 games back of that eighth playoff position and a loser in two straight and three of their last four.
Perhaps making matters tougher for the Storm, they play only two of their final six games at home. Meanwhile, the Sky play four of their final six on the road, where they've lost three in a row. However, they won 90-75 at Seattle on July 22.
Following their win against the Storm earlier this week, the Sky blew a 16-point, first-half lead during Thursday's 94-87 home loss to WNBA-leading Las Vegas.
"We need to take care of business," interim Sky coach/general manager Emre Vatansever said. "We play Seattle and Los Angeles on the road now. That's our focus."
Chicago has allowed an average of 79.0 points while going 2-1 against the Storm this season.
However, Seattle star and WNBA leading scorer Jewell Loyd (24.4 ppg) scored 26 at Chicago on Tuesday and has averaged 29.7 points in the last three games. She scored 19 of her 32 points in the fourth quarter of Thursday's 90-86 loss at Indiana. The Storm hit 11 3-pointers, but their 13 turnovers resulted in 22 Fever points.
"She's finding ways to be different and keep us in games and do whatever she can to will us to victories and find some success," Storm coach Noelle Quinn said of Loyd.
Seattle last dropped three in a row during its 10-game losing streak from June 27-July 25.
—Field Level Media