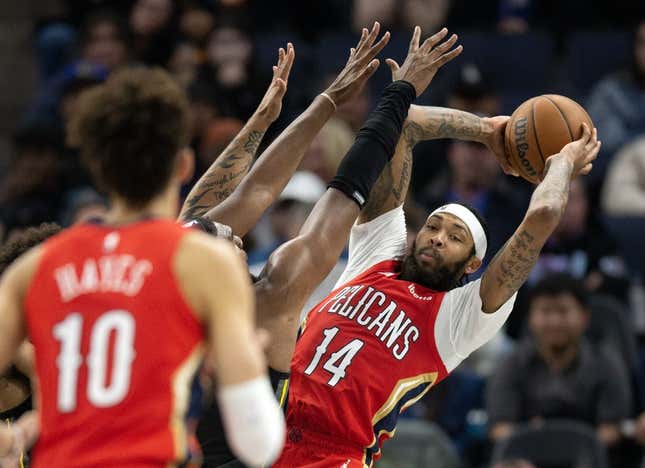 The New Orleans Pelicans will attempt to repeat recent history when they wrap up a three-game Western swing with a stop in Sacramento to take on the Kings on Monday night.
How running an NFL team is like running a restaurant | Chef Emeril Lagasse
New Orleans has split the first two games of the trip, winning 121-110 on Wednesday at Portland before losing 108-99 at Golden State on Friday.
In the meantime, Sacramento saw a five-game winning streak come to an end with a 138-134 home loss to the Minnesota Timberwolves on Saturday.
The Kings haven't lost two in a row since the last time they saw the Pelicans. That was one month ago on Feb. 5, when the Kings followed a loss at Indiana with a 136-104 shellacking at New Orleans two days later.
Trey Murphy III shocked the visitors with six 3-pointers and 30 points in that New Orleans win, which came during a stretch in which the Pelicans won four of five to solidify their standing in the Western Conference playoff race.
They've since lost five of six to fall two games below .500, with a four-game homestand against all Western playoff contenders to follow starting on Wednesday.
With the Pelicans, who had the best record in the West in mid-December, having fallen to the lower boundary of the pack in the Western race, and with Zion Williamson's future remaining cloudy due to a strained right hamstring, Brandon Ingram realizes it's up to him to help keep things positive.
"I know I have a major responsibility to make sure everybody stays locked in and we have a sense of urgency as we head down the stretch," he said. "We know every game we have ahead of us is extremely important. My responsibility is just to make sure everybody is ready and keep everybody involved so we can play our best basketball when we need it."
Ingram has surely done just that. He had a season-high 40 points in Wednesday's win at Portland and has topped 30 five times in his last 10 games.
He sat out the Kings' visit to New Orleans last month, as did Sacramento's De'Aaron Fox, who has basically matched Ingram point for point in recent weeks.
The Kings' All-Star had gone for 30 or more points in eight straight appearances before totaling 25 in Saturday's loss to the Timberwolves. Kevin Huerter topped the team in that one with 29 points.
Sacramento hasn't made the playoffs since 2006, and while they currently sit in a rather comfortable position -- they have seven fewer losses than the Pelicans -- coach Mike Brown has found himself reminding his team the job is not done.
"We have a target on our back," he said. "We are the hunted right now. I'm not sure where we sit as a team because this is the first time we've gone through this -- being the hunted."
The Kings have fared well in a tough stretch of the schedule, going 6-3 against all playoff contenders. But with the New York Knicks, Phoenix Suns and Milwaukee up next after New Orleans, there are no lightweights in sight.
The Kings and Pelicans also are scheduled to meet April 4 in New Orleans.
--Field Level Media