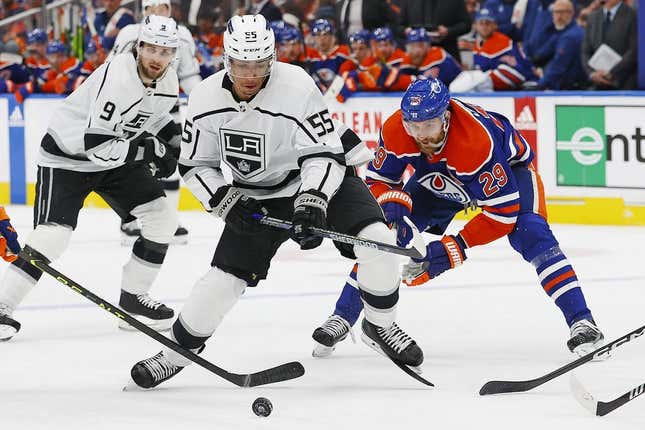 The Los Angeles Kings can look back at their first two playoff games seeing news both good and bad
Air Jordans are more American than McDonald's French fries | Deon Cole's Ultimate Sports Fantasy
On the positive side, the Kings earned a split on the road as they prepare to host Game 3 of their Western Conference first-round series against the Edmonton Oilers on Friday. Also on the plus side of the ledger is the fact the Kings erased two-goal deficits in both outings
On the negative, though, the Kings twice have trailed 2-0 by the end of the first period before mounting comebacks, even in Wednesday's 4-2 Oilers victory that has the best-of-seven series tied 1-1
"It's a poor recipe for taking a swing at this team, falling behind," Kings coach Todd McLellan said. "When you're ahead, you have a much better chance of checking and not taking as much risk as you have to to come back. Obviously, the start ... wasn't where it needed to be. Again, a resilient group worked its way back in. The frustrating thing for me is that there were some things that we needed to do early in the game and we didn't decide to do them until the second and third periods.
Los Angeles certainly showed its moxie by erasing a third-period deficit in the opener en route to a stunning 4-3 overtime win. The Kings definitely got a boost in confidence from drawing even with a strong second period in the last outing
It should also aid their confidence that they took over home-ice advantage, with three of the next four games slated for Southern California, despite not yet being at their best for a full contest.
"We had momentum in the second and third (periods). ... We didn't panic, but we definitely need a better start," forward Phillip Danault said. "I thought the character was there again and we came back again."
The Oilers headed south also knowing full well they have not been at the top of their game
The performance so far of Leon Draisaitl -- three goals and five points in the first two games -- is definitely a huge boon to the Oilers. Draisaitl finished second in the league with 128 points (52 goals, 76 assists) and has carried that momentum into the Stanley Cup playoffs
"He's playing amazing. Strong, physical, winning face-offs and doing all those little things that all add up in scoring goals and making plays," Edmonton forward Zach Hyman said. "That's just who he is. One of the best in the world, right? He's an elite player and he shows up at this time of year."
The surprise for Edmonton is that Connor McDavid, who led the league in goals (64), assists (89) and points (153) during the regular season, has just one assist so far. Then again, the Oilers could see that as another silver lining, knowing their captain is overdue for a breakout performance
What the Oilers are more focused on is their team game. Ideally, they would be able to build on the early leads, but Wednesday's win proved to themselves how they can regroup amid the emotional roller coaster that is more pronounced in the playoff chase
"You always get moments where you go into the third period tied, or down one, or up one," Oilers goaltender Stuart Skinner said. "I think just being able to have that experience, we've played in games like that before -- we played in a game like that just the other day. So, as a team, we have the leaders and just everybody in here knows how to bounce back from that.
--Field Level Media