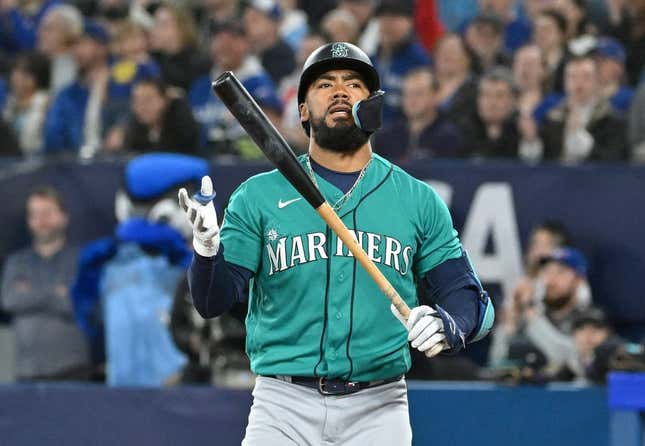 The visiting Seattle Mariners will be searching for ways to score runs and avoid a sweep in their three-game series against the Toronto Blue Jays Sunday afternoon
Does Jimmy Butler have the best NBA Finals origin story? | Agree to Disagree
The Mariners have lost four in a row -- each by one run -- including the first two games of the series against the Blue Jays
The Mariners wasted Easton McGee's superb first career major league start to lose 1-0 in 10 innings on Saturday
They also lost 1-0 to the Philadelphia Phillies Thursday to squander right-hander George Kirby's complete game in the rubber match of a three-game series that opened Seattle's nine-game trip.
The Mariners, who are 3-9 in one-run games this season, have scored two runs over their past three games and seven on their four-game slide
McGee, who was recalled from Triple-A Tacoma to make his second career major league appearance, did not allow a hit until his final batter, Matt Chapman, who doubled with two out in the seventh.
The Blue Jays have won the first five games of a six-game homestand and six straight overall. Their strong starting pitching continued with right-hander Kevin Gausman striking out a career-best 13 in seven innings on Saturday. The Mariners whiffed a season-high 19 times, surpassing their previous high (15) set in Friday's loss
Over the past 10 games, Blue Jays starters have allowed only seven runs over 63 1/3 innings, a 0.99 ERA
"We just have kind of a bulldog mentality, next-guy-up mentality and making-them-beat-us mentality," Gausman said of Toronto's starting rotation. "We're attacking the zone and going after them with our best stuff."
"Pitching can be contagious, like hitting," Blue Jays manager John Schneider said
The Mariners had chances early in the game Saturday, but did not help themselves. With two out, two on and a 3-0 count on Julio Rodriguez in the second, Tom Murphy was picked off second by Gausman to end the threat
"You've got to get on them early," Mariners manager Scott Servais said. "You know we had some chances there in the first and second innings and we weren't able to cash in.
"It's literally one facet of the game that we're just not excelling at right now and that's our offense," Murphy said. "I mean every guy in the clubhouse feels it right now. We all know it. Putting pressure on ourselves is not going to help, that's for sure.
"We're going to right that ship because I know in spring training that was the most confident I've ever been in our offense in our last few years. Just looking at the bats we had, the guys we had, things are going to turn around for us in that facet."
More bad news for the Mariners came in the sixth when Rodriquez (lower back tightness) left the game
"I think he's going to be fine," Servais said. "That's my feeling on it. We'll see how he feels tomorrow."
Former Blue Jay Teoscar Hernandez continued his nightmarish homecoming by striking four times on Saturday. He is 0-for-8 in the series with seven strikeouts.
Left-hander Marco Gonzales (2-0, 3.32 ERA) is scheduled to start for Seattle on Sunday. In four career starts against Toronto, he is 3-1 with a 2.70 ERA.
Toronto is scheduled to start right-hander Chris Bassitt (3-2, 4.82), who is 1-4 with a 3.78 ERA in 15 career appearances (13 starts) against Seattle.
Reliever Diego Castillo was optioned to Tacoma on Saturday to make room for McGee.
--Field Level Media