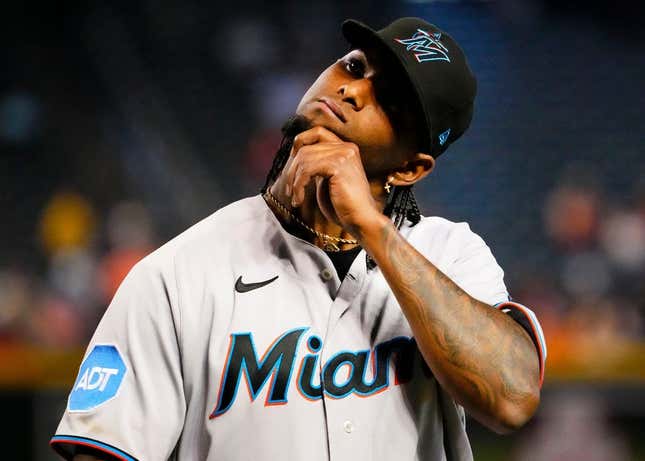 The slumping Miami Marlins will get a much-needed pitching lift when Edward Cabrera comes off the injured list
How running an NFL team is like running a restaurant | Chef Emeril Lagasse
Barring a late setback, Cabrera is expected to start against the Cardinals on Tuesday in the middle game of a three-game series in St. Louis. The Cardinals won the opener 6-4 on Monday night, handing the Marlins their fourth straight loss and sixth setback in eight games
"It's four games after the break," Marlins manager Skip Schumaker said. "We've got 60-something left, so we got a long way to go, but it just shows we're not done yet. Lot of work to do still
"We were definitely not a finished product. No one thought that before anyways. We've just got stuff we've gotta clean up, and we'll be all right."
Cabrera (5-5, 4.70 ERA) has recovered from a shoulder impingement and blister issues. He last pitched in the majors on June 13, when he struggled at Seattle while allowing five runs on four hits (including two homers) and three walks in four innings.
He passed his final test while pitching a simulated game during the All-Star break.
"I'm happy to be back with this group, and I know I can help," Cabrera told MLB.com through team translator Luis Durante Jr. "All we have to do is stay together and united. That's one of the keys to our success. We are very united, all together, doing what we all have to do to get that success we aspire to."
The Tuesday game would be his first career appearance against the Cardinals
St. Louis has won five of its past six games. Left-hander Jordan Montgomery (6-7, 3.23 ERA) will make his first start for the Cardinals since sustaining a slight hamstring strain on July 7 during his start against the Chicago White Sox
He exited that game after allowing one run on three hits in 4 1/3 innings. The minor injury occurred when he slipped on the mound before regaining his balance.
"I'm big. I'm strong. I'm in really good shape," Montgomery said. "So I'm just trying to think thank goodness I'm as strong as I am and could catch myself."
Montgomery has allowed two earned runs or fewer in seven of his past eight starts.
He did not face the Marlins when the teams met earlier this month. Montgomery has faced Miami once in his career, allowing one run on four hits in five innings on Aug. 1, 2021
The Cardinals are expected to activate Tyler O'Neill ahead of the Tuesday game and install him as their regular left fielder. He had been sidelined due to back soreness since early May
"All I know is that I'm feeling good now and feeling healthy," O'Neill told the St. Louis Post-Dispatch. "Recovering efficiently and really feeling normal again, just in my everyday life. I'm in a really good spot mentally."
The Cardinals made a roster change ahead of this series, designating reliever Genesis Cabrera for assignment and signing reliever Ryan Tepera as a free agent. Tepera made his team debut Monday night, allowing one run in two-thirds of an inning
"I don't think (Cabrera) loved the role he was in and ultimately as I was trying to get this to work, we just kept hitting some headwind," Cardinals president of baseball operations John Mozeliak said. "Now, he'll get that opportunity to do it somewhere else.
--Field Level Media