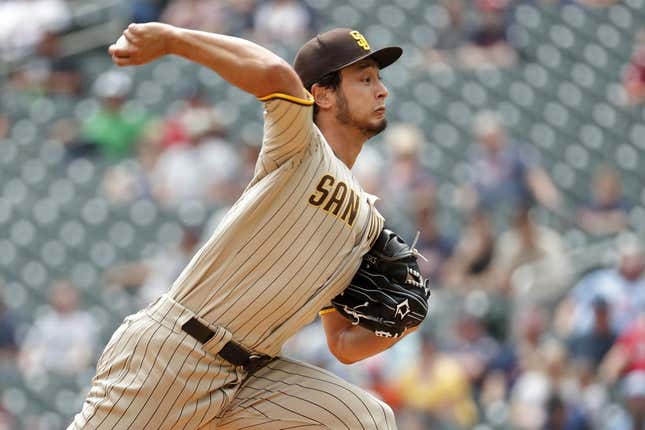 The San Diego Padres and the visiting Kansas City Royals, two teams that are scuffling in May, will meet on Wednesday afternoon in the rubber game of a three-game series
How running an NFL team is like running a restaurant | Chef Emeril Lagasse
San Diego has lost six of its past seven games and eight of its past 10, part of a 5-9 month so far. Kansas City was on a four-game losing streak before beating the Padres 5-4 on Tuesday, a result that improved the Royals' May record to 6-9
Kansas City is shooting for just its fourth series win of the season in 14 tries.
As for the Padres, a lack of offense is no longer the only problem
Manny Machado's left hand wasn't fractured by the pitch that squarely hit it Monday night. However, soreness in a ligament sidelined Machado on Tuesday and could keep him on the sideline again on Wednesday.
Seth Lugo, who until Tuesday had been one of San Diego's most consistent starting pitchers, sustained a calf strain while covering first at the end of Kansas City's five-run second -- an injury that will cost him at least one start.
Then there was the Tuesday game itself. The major leagues' worst team with runners in scoring position (.195) went 0-for-5 in those situations. The first two innings featured double-play grounders, and Royals pitchers picked a runner off first in the seventh and eighth innings with San Diego trailing by a run
"It's just the way we've been playing," Padres manager Bob Melvin said. "We're not in sync all the way around. You don't expect baserunning to cost you. ... That ended up costing us the game.
Meanwhile, Royals manager Matt Quatraro was looking ahead to what could be a key game his club on Wednesday
"Winning a series here against this team would be a boost for us," Quatraro said. "We end a tough road trip with three games against the White Sox. A little success (against the Padres) could give us a boost.
After leaving San Diego, the Royals play six straight series against teams with records no better than .500 at the moment
The first order of business for the Royals will be getting past Padres right-hander Yu Darvish (2-2, 3.16 ERA). Kansas City will counter with right-hander Carlos Hernandez (0-1, 4.50 ERA) in what sets up to be a bullpen game
Hernandez, announced as the Wednesday starter after the Tuesday game, has worked 20 innings in 18 relief appearances this season. The 6-foot-4, 245-pound, 26-year-old Venezuelan allowed one hit in two scoreless innings in his only previous appearance against the Padres, on Aug. 27, 2022
Darvish will be making his eighth start of the season. In his past four starts in the United States, Darvish allowed six runs (five earned) on 14 hits and nine walks with 30 strikeouts in 25 1/3 innings for a 1.78 ERA. Not included in those totals is his April 30 start against the San Francisco Giants in Mexico City, where he gave up four runs on nine hits in six innings.
In seven career starts vs. the Royals, Darvish is 4-1 with a 2.40 ERA
--Field Level Media