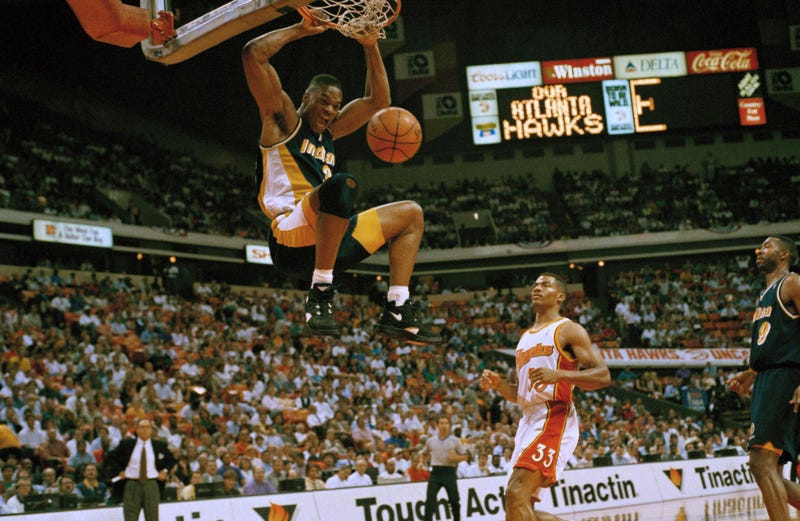 Occasionally, from week to week, a league will go back and adjust the statline in a game. Yu Darvish gives up a hit, or LeBron loses a rebound, or Jamaal Charles loses three yards and everyone in your fantasy league ends up in last place. This is more or less like that, except 20 years after the fact.
A while back, Basketball Reference was told that there was something up with Game 6 of the 1994 Eastern Conference Semifinals. After doing some digging, it turned out that Antonio Davis was getting the short end. Here's how BBRef explained what happened:
It recently came to our attention that there are some conflicting scores listed by various sources for Game 6 of the 1994 Pacers/Hawks Eastern Conference Semifinals series. This prompted some digging here. As a result, we have changed our score, from 97-79, to a 98-79 final. The extra point has been awarded to Antonio Davisfor making 1 of 2 FTA in the 4th quarter.

However, this also led to our discovery that some of the "official" playoff totals for the 1993-94 Pacers are not correct. They are "officially" credited with 1,444 points in the 1994 Playoffs, but if you add up all of their scores, you will get 1,445. Similarly, Antonio Davis is "officially" credited with 134 points in the 1994 Playoffs, but if you add up his game logs, you will get 135.

It is our belief that the 98th point we were missing from our Game 6 score has gone unaccounted for in NBA stat totals for the last 20 years. As such, we are adjusting the Playoff scoring totals for the 1994 Pacers. The team will now be credited with 1,445 Playoff points (rather than 1,444) and Antonio Davis with 135 Playoff points (rather than 134). Additionally, 1 FTM and 2 FTA have been added to the Pacers' total (all credited to Davis).

Thanks to this correction, Davis has moved past Larry Foust for sole possession of 219th place on our NBA all-time Playoff scoring list. Congratulations, Antonio!
Because the point was already in the box score, this isn't a radical shift—it isn't going back to look at the Duncan quadruple-double that wasn't, or prying away some of those 23 Nick Van Exel assists—but this is fun all the same.