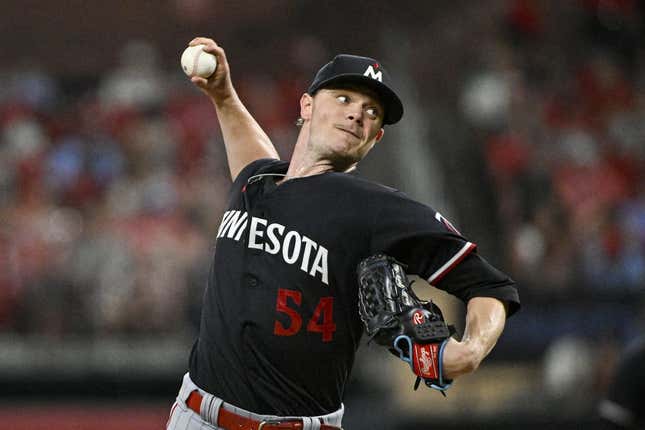 Sonny Gray ended a long winless streak in his last start
The Minnesota Twins right-hander will try to make it two in a row when he starts against Detroit on Tuesday
Is Texas or Florida State a bigger national title contender? | Agree to Disagree
Gray won four of his first six starts this season -- all in April -- then went 15 starts without being credited with a victory. Gray (5-4, 3.18 ERA) ended the drought when he held St. Louis to two runs in seven innings on Thursday. Gray didn't walk a batter while collecting eight strikeouts
"Not a lot of wins came in for a while, so maybe now you'll go on a run and win every game you start," Gray said
As his ERA would suggest, Gray has pitched better than his record would indicate. He has allowed three or fewer runs in all but two of his starts this season
He's posted quality starts in his last three outings
"I think I've just been building and trending in a direction with filling up the zone," Gray said. "It's been something that was a focal point. You know there, for a minute, that wasn't necessarily happening. That's been a thing lately, is to attack in the zone. A few homers may come with that. A few hits may come with that. At the end of the day, they may not, too.
Gray is 4-1 with a 2.64 ERA in nine career appearances against the Tigers
He'll be opposed by Detroit ace Eduardo Rodriguez. After nixing a trade to the Los Angeles Dodgers just prior to last week's deadline, Rodriguez (7-5, 2.96 ERA) held Pittsburgh to two runs in six innings on Wednesday. He's won three of his last four starts
"I love the guys here and I feel they love me, too," he said. "They're happy I'm staying here and I am happy to be staying here. I'm glad to be staying with the organization to help as much as I can with the young guys and to go out every five days and do what I can to win the game.
The left-hander has been effective against the Twins during his career, going 4-1 with a 3.38 ERA in eight starts
The Twins have won five in a row, including a 9-3 victory in the opener of the four-game series on Monday. Ryan Jeffers and Carlos Correa hit three-run homers as Minnesota jumped to an 8-0 lead in the first three innings
"We're finally pulling it all together," Jeffers said in a postgame TV interview. "We're pulling the pitching, the bullpen, the offense all together to put together really good games. Now is the best time to be doing that. Down the stretch is when you want to be playing your best baseball and that's exactly what we're doing.
Jeffers has been the hottest hitter in the lineup, blasting four homers in his last four games. Correa has driven in seven runs in the last three games
The Tigers have lost nine of their last 12 games. They barely avoided a shutout in the series opener, as Nick Maton hit a ninth-inning, three-run homer
--Field Level Medi