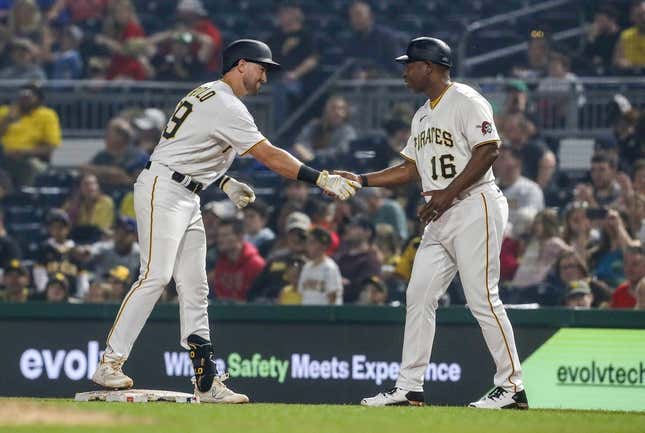 The Pittsburgh Pirates will pursue a three-game series sweep of the visiting San Diego Padres on Thursday, and that marks a big turnaround
How running an NFL team is like running a restaurant | Chef Emeril Lagasse
Pittsburgh had lost 12 of 13 and had dropped its previous four series. Then the reeling Padres came to town, and the Pirates have taken the first two games by a combined score of 16-5
Pittsburgh also is undergoing a youth movement with three new callups.
Right fielder/catcher Henry Davis, shortstop Nick Gonzales and third baseman Jared Triolo have all made their major league debuts in the past 10 days. Triolo was recalled on Wednesday from Triple-A Indianapolis.
In Pittsburgh's 9-4 win on Wednesday, those three rookies went a combined 4-for-10 with two RBIs, three runs and two hit batsmen, including Triolo's first career hit.
"We're seeing a lot of firsts because we've had some injuries and we've had guys called up," Pirates manager Derek Shelton said. "The lifeblood of our organization is going to be our system, the fact that we're able to backfill
"We have a very young roster in terms of experience, and for these guys to come up and contribute is extremely important for us."
San Diego, meanwhile, has lost four straight and seven of nine. All facets of the Padres' game are falling short
"It feels that way right now, unfortunately," said San Diego manager Bob Melvin, who was ejected during the Pirates' five-run seventh inning on Wednesday. "It's excruciating. ..
"We're not playing good baseball across the board. If one thing goes wrong, it tends to snowball a little bit."
With a beefed-up lineup, a high payroll and lofty expectations as the midpoint of the schedule arrives on Thursday, San Diego is looking at the big picture.
"Things are getting a little bit out of hand," third baseman Manny Machado told the San Diego Union-Tribune. "We've got three months to prove people wrong, so the only thing that can change is the urgency and the want."
Triolo's promotion came as Pittsburgh third baseman Ke'Bryan Hayes went on the 10-day injured list after he missed two games due to lower back inflammation.
Hayes joins left fielder Bryan Reynolds, who also has a back ailment, on the sideline.
The Padres placed right-hander Reiss Knehr on the 15-day IL on Wednesday because of a right elbow strain. Knehr, normally a reliever, started the Tuesday game because Yu Darvish was ill, and he took the loss after allowing five runs in two-plus innings
Darvish might start Friday in the series opener at Cincinnati, but he was still experiencing flu-like symptoms Wednesday.
In Thursday's series finale, San Diego right-hander Joe Musgrove (6-2, 3.88 ERA) is scheduled to oppose Pittsburgh right-hander Luis L. Ortiz (2-3, 3.74).
Musgrove, a former Pirate, has won three straight starts, giving up a combined six runs in 19 innings.
Most recently, he held the Washington Nationals to one run and six hits in seven innings with seven strikeouts and no walks on Friday.
Against Pittsburgh, Musgrove is 1-2 with a 3.43 ERA in four career starts.
Ortiz, another Pirates youngster pressed into duty, has never faced the Padres. He is coming off arguably his best career start. He gave up one run in eight innings Friday at Miami to help Pittsburgh break a 10-game skid
Over his past 12 2/3 innings, Ortiz has allowed two runs.
--Field Level Media