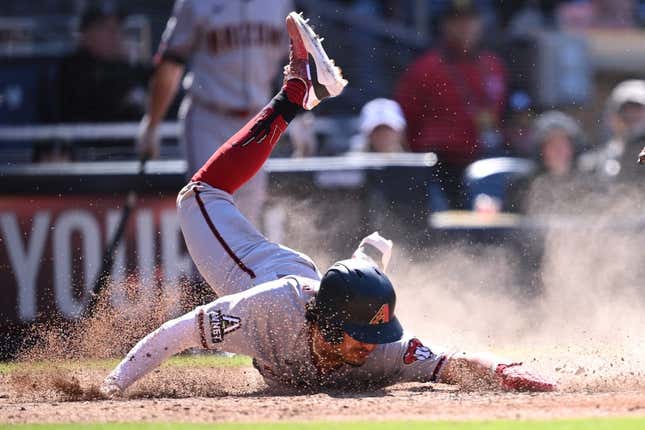 While the pitch clock was designed to speed up baseball, the Arizona Diamondbacks are putting their own spin on the concept of breakneck play
'Soccer fandom is full of gatekeepers' says Ted Lasso actor Brendan Hunt
The fastest outfield in the game is wreaking havoc on the basepaths, leading the Diamondbacks to a 3-3 season-opening road trip against two of the favorites in the National League, the Los Angeles Dodgers and the San Diego Padres
Now, Arizona settles in for its first homestand of the season, taking on the Dodgers on Thursday. Two seasons after losing 110 games, the Diamondbacks are in how-do-you-like-me-now mode by turning baseball strategy on its ear
While major league offenses are being built around long balls and slugging percentage, the Diamondbacks have been developing a game plan around fleet-footed youngsters Corbin Carroll, Alek Thomas and Jake McCarthy. Arizona's outfield defensive potential is off the charts, while the team's ability on the bases was on full display this week
"You can see what we're trying to do," Diamondbacks manager Torey Lovullo said
After pulling to within a run in the sixth inning against the Padres on Tuesday, following an early 5-1 deficit, the Diamondbacks stole four bases in the eighth inning while scoring four runs to take an 8-5 lead en route to an eventual 8-6 victory. One run came on a bunt by Geraldo Perdomo, while another came when Josh Rojas swiped home on the back end of a double steal
"We're a good team," Lovullo said. "We're athletic, and we're going to exploit things that we're supposed to. These are things we talked about all spring training long."
On Thursday, the D-backs are scheduled to send right-hander Merrill Kelly (0-0, 0.00 ERA) to the mound. Kelly wasn't sharp in his season debut Friday at Los Angeles, but he managed to hold the Dodgers scoreless in 3 2/3 innings despite allowed four walks and three hits. The bullpen helped to finish off a 2-1 victory
The Dodgers will counter with right-hander Dustin May (0-0, 0.00 ERA), who had to settle for a no-decision in his season opener opposite Kelly. After making just 11 total appearances over the past two seasons following an injury that required Tommy John surgery, May went seven scoreless innings against Arizona, permitting three hits and one walk
"For me, he's a better major league pitcher than he was, call it, 18 or 19 months ago," Dodgers manager Dave Roberts said of May
Kelly remains without a win against the Dodgers in 13 career starts, going 0-9 with a 5.64 ERA. In four appearances (three starts) against the Diamondbacks, May is 0-1 with a 5.84 ERA
The Dodgers twice were held to one run by the Diamondbacks last weekend as the teams split a four-game series. Otherwise, the Los Angeles offense has been in full roar. In their four victories, the Dodgers have averaged nine runs a game
The Dodgers' Will Smith enters with home runs in each of the past three games. He has a .421 batting average with a 1.478 OPS to open the season
"I'm feeling pretty good," Smith said. "It always feels good when you're swinging at the right pitches and you're doing something with them, you're not missing them or fighting them off. Just trying to keep it going and show up Thursday ready to go."
--Field Level Media