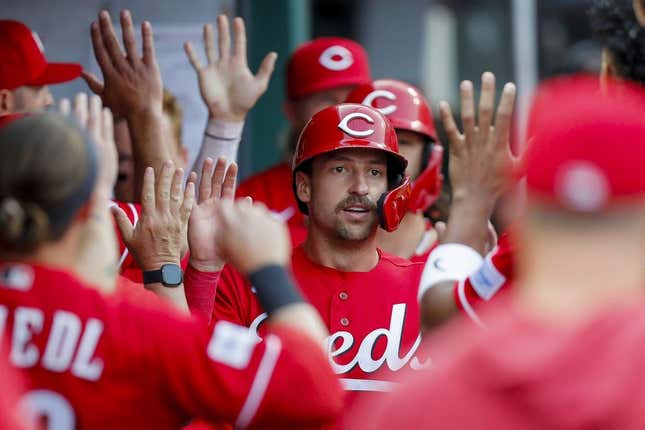 Spencer Steer and the Cincinnati Reds will look for a rare series win against the visiting St. Louis Cardinals when they conclude a four-game set Thursday afternoon
Air Jordans are more American than McDonald's French fries | Deon Cole's Ultimate Sports Fantasy
Steer had a career-high four hits and scored twice to raise his average to .273 in Wednesday's 10-3 rout of the Cardinals
"There is a toughness to him," Reds manager David Bell said. "Where it's just like he knows who he is. He knows what he needs to do, he doesn't let too much affect his confidence.
The Reds have claimed two of the first three games and Steer, called up in 2022 after being acquired from Minnesota in the Tyler Mahle trade, has been at the center of both wins. The Reds are searching for their first win of a four-game series against St. Louis since June 2021, when they swept four games in St. Louis
Steer has become a steady force as Cincinnati's No. 3 hitter while holding down first base duties with a team-leading six home runs.
"I came up as a 'put the ball in play' kind of guy," Steer said. "With the Twins, I made a huge adjustment in my swing to hit for more power. I did hit for more power, but I struck out more. I'm still in that transition back into combining the two and finding the best of both worlds to put the ball in play and also produce some power. I've come full circle."
The Cardinals, despite dropping two of the first three in the series, have won 12 of 17 to escape the NL Central basement and a 10-24 start to the season
"We were in a rut where everything that could go wrong did go wrong," Cardinals general manager Mike Girsch said before Wednesday's game in Cincinnati. "Every day we were waiting for the black cat to walk out or whatever. Once things started going better, the attitude and the expectations that we can do this (created) a more positive direction and we just started playing the way we were expecting to play the whole year.
The Cardinals have opened 1-2 in a stretch of 15 games during which they will play at home just twice
St. Louis sends right-hander Miles Mikolas (2-1, 4.77 ERA) to the mound in the finale of the four-game set.
Mikolas allowed three runs over a season-high seven innings in a no-decision in last Saturday's 6-5 win over the Los Angeles Dodgers at Busch Stadium. Mikolas will be making his 17th career appearance -- 15th start -- vs. Cincinnati. Mikolas has just one win in his last 12 appearances against the Reds, going 0-3 with a 7.94 ERA in his last six starts in Cincinnati
The Reds will counter with right-hander Luke Weaver (1-2, 6.54), who is making his seventh start this season and first career appearance against the Cardinals
--Field Level Media