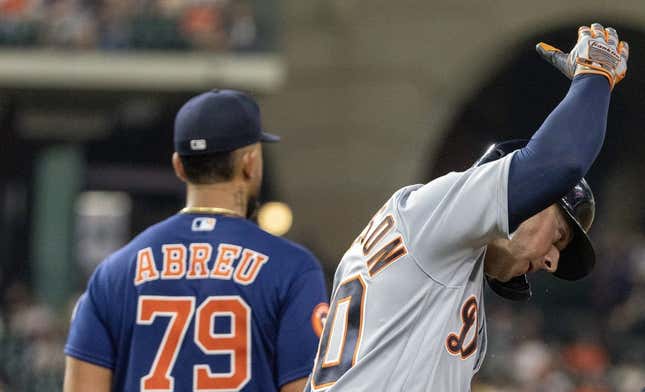 Riley Greene and Spencer Torkelson recorded multi-hit games, with Torkelson producing three RBIs, as the visiting Detroit Tigers claimed a 6-3 victory over the Houston Astros on Tuesday
'Soccer fandom is full of gatekeepers' says Ted Lasso actor Brendan Hunt
The Tigers secured the three-game series with their second win in as many games as Torkelson produced an RBI double that opened the scoring in the first inning before delivering a two-run home run in the eighth that provided Detroit a measure of insurance
Greene finished 3-for-4 and scored twice, including the go-ahead run in the top of the sixth. His one-out single off Astros reliever Ryne Stanek set the table for Torkelson, whose first homer of the season carried 424 feet to center field and stretched the Tigers' lead to 5-2
Torkelson, like Greene, finished 3-for-4. Detroit second baseman Ryan Kreidler went 2-for-4.
When Greene scored on an Eric Haase groundout in the sixth, it put Tigers right-hander Matt Manning (1-0) in a position to earn the victory in his season debut. Manning allowed two runs on six hits and two walks with four strikeouts while logging 5 2/3 innings. He threw 89 pitches
The Astros tagged Manning for a game-tying run in the first when Kyle Tucker followed a Jose Abreu single that pushed Alex Bregman into scoring position with an RBI single to Haase in left. Tucker struck again off Manning in the fourth, leading off that frame with a 397-foot blast off the second-deck facade in right. Tucker gave Houston a 2-1 lead with his first homer this season
That advantage was short-lived. Astros left-hander Framber Valdez (0-1) stranded Torkelson in scoring position in the first inning and got an outfield assist from Yordan Alvarez in the third that cut down Matt Vierling at the plate for the final out of that frame
But Valdez surrendered a leadoff single to Jonathan Schoop in the fifth inning, and his wild pitch pushed Schoop into scoring position. When Jake Rogers followed with a single, the game was tied 2-2. Detroit reclaimed the lead in the sixth and, despite retiring all three batters on called third strikes in the seventh, Valdez was saddled with the loss. He allowed three runs (two earned) on eight hits and one walk while posting nine strikeouts.
--Field Level Media