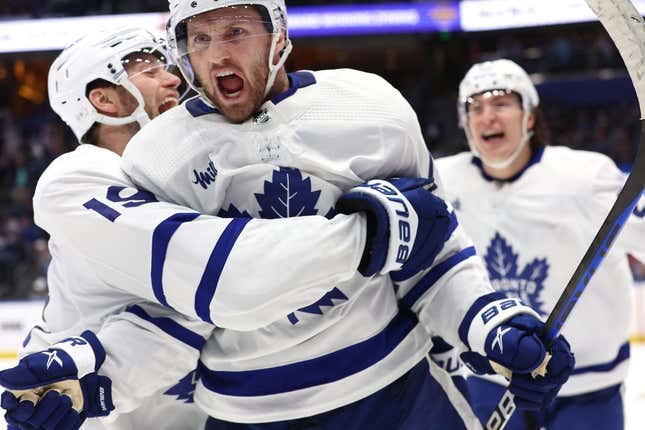 While Boston Bruins fans were ruing their team's first-round upset at the hands of the Florida Panthers, oddsmakers were understandably not shedding many tears.
'Soccer fandom is full of gatekeepers' says Ted Lasso actor Brendan Hunt
The Stanley Cup favorites at every sportsbook following their historic regular season, the Bruins were the biggest liability at many entering the playoffs. That includes at BetMGM, where Boston had accounted for 28.1 percent of the Stanley Cup champion bets and a whopping 42.7 percent of the money wagered.
"Entering the playoffs, the Bruins were the betting favorites to win the Stanley Cup and a significant liability for the sportsbook," BetMGM Sports Trader Seamus Magee said. "While heartbreaking to fans and those who closely followed their run, Boston losing in the first round was a good outcome for the sportsbook."
Boston's demise coincided with the defending champion Colorado Avalanche bowing out on Sunday night, and the good news kept on rolling for the sportsbooks on Monday when the New Jersey Devils took out the New York Rangers in yet another Game 7. That meant the top three liabilities at BetMGM entering the playoffs failed to make it out of the first round.
With the top three American teams eliminated, the new Stanley Cup futures list has a distinctly Canadian flair.
The new favorite entering the second round is Toronto, with the Maple Leafs being offered at +350 at BetMGM and DraftKings. Next are the Edmonton Oilers, who are +375 and +425 at the two sportsbooks, respectively
The Oilers do remain the biggest liability at BetMGM to win the Western Conference, having drawn 23.2 percent of the total bets and 26.1 percent of the money at +750 behind the prohibitive favorite Avalanche at +175
Since we're talking about sports betting, it's fair to say the Seattle Kraken are "playing with house money."
The first team to claim a franchise's first playoffs series victory against a reigning Stanley Cup champion, the Kraken are significant longshots across the boards. They are by far the longest shots to win the title at both BetMGM (+1600) and DraftKings (+2000), where the Kraken have twice the longest odds of the next-closest team -- the Panthers at +1000.
Stanley Cup championship odds (BetMGM/DraftKings)
Toronto Maple Leafs (+350/+350
Edmonton Oilers (+375/+425
Dallas Stars (+600/+550)
New Jersey Devils (+600/+600)
Vegas Golden Knights (+600/+650)
Carolina Hurricanes (+600/+700)
Florida Panthers (+1000+1000)
Seattle Kraken (+1600/+2000)
--Field Level Media