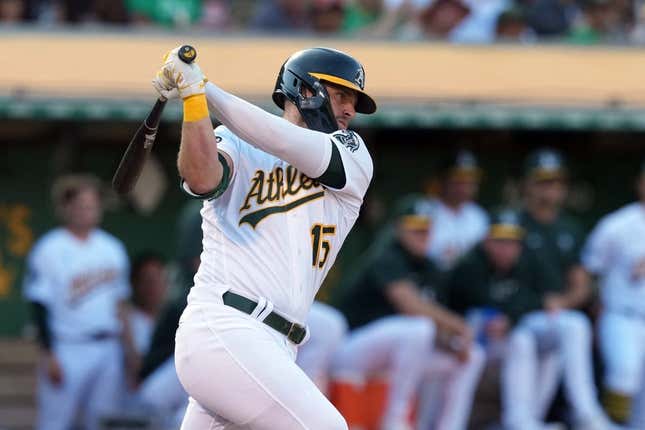 Energized by another "reverse boycott" day Saturday, the Oakland Athletics have another chance Sunday to accomplish something they've done just once this season -- a series sweep
How running an NFL team is like running a restaurant | Chef Emeril Lagasse
The host Athletics will look to complete a two-game sweep of the San Francisco Giants in this year's final "Bay Bridge" matchup
Luis Medina (3-8, 5.35 ERA) is slated to start for the Athletics against the Giants' Alex Cobb (6-3, 3.05) in a battle of right-handers
The Athletics snapped a four-game losing streak Saturday when Seth Brown delivered a tie-breaking RBI single in the eighth inning and a quartet of pitchers combined on a three-hitter in a 2-1 victory
Trevor May earned the win by recording the final five outs in front of 37,553 fans -- the A's largest crowd since 40,065 on Aug. 6, 2022, at Oakland Coliseum. The Athletics have regularly been playing to four-digit crowds during a season in which team owner John Fisher has reached an agreement to relocate the franchise to Las Vegas
A "reverse boycott" crowd is intended to show the support the A's have in Oakland
During the top of the fifth inning Saturday, fans of both teams chanted "sell the team" at Fisher. Athletics third baseman Jordan Diaz snapped a scoreless tie with a homer in the bottom of the inning
"It's so great to have that type of energy in the stands," Athletics manager Mark Kotsay said afterward. "When we've had those crowds, we've played well. It feels good to sit here after a game like that and be on the right side of it and have 35,000-plus people in the stands. A good day for our ballclub.
With a win Sunday, the Athletics would complete only their second sweep of the season and their first since they took three games from the Milwaukee Brewers from June 9-11
Those victories were part of a season-high, seven-game winning streak that concluded June 13 with a 2-1 win over the Tampa Bay Rays when the teams played in front of a "reverse boycott" crowd of 27,759 that stood as the largest of the season until Saturday
Meanwhile, the loss Saturday snapped a three-game winning streak for the Giants, whose lead over the Philadelphia Phillies in the race for the top wild-card spot in the National League slipped to one game. It also extended an offensive outage for the Giants, who have four runs or less in 15 of their last 16 games -- a stretch in which they've been outscored 57-41
After being limited to two hits in a 1-0 win over the Arizona Diamondbacks on Thursday, San Francisco had just three hits Saturday
"As a group, we're capable of a lot more, of course," Giants manager Gabe Kapler said. "We're just not going to be impatient with this group because it's a group with a long track record of success. There's just zero need to worry too much.
Medina took the loss in his most recent start July 30, when he gave up two runs and six hits over 5 1/3 innings as the Athletics fell to the Colorado Rockies 2-0. He has never opposed the Giants
Cobb didn't factor into the decision on Tuesday after surrendering three runs and four hits over six innings in the Giants' 4-3 win over the Diamondbacks. He is 5-3 with a 1.80 ERA in 12 career starts against the Athletics
--Field Level Medi