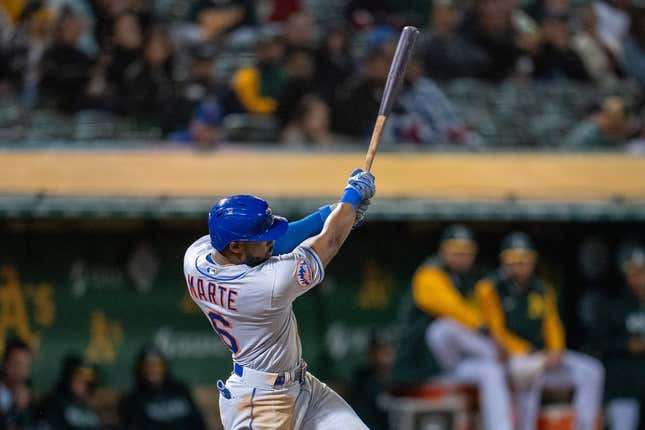 Starling Marte will take another crack at one of his favorite ballparks when the New York Mets visit the Oakland Athletics on Saturday afternoon for the second game in a three-game interleague series
'Soccer fandom is full of gatekeepers' says Ted Lasso actor Brendan Hunt
Marte walked three times, singled, doubled, scored twice and drove in three runs in the Mets' 17-6 shellacking of the A's in the series opener on Friday
Francisco Lindor stole the spotlight with a grand slam and a three-run double, helping the Mets open a 10-game California trip with a one-sided win
Marte's performance on Friday was his first in Oakland since he left the A's for the Mets in free agency following the 2021 season
The crowd-pleasing outfielder had been acquired at a high price by Oakland in July 2021, with the A's sending one of their best young pitchers, Jesus Luzardo, to the Miami Marlins.
Marte lived up to his price tag in 56 games for the A's, hitting .316 with five homers and 30 RBIs. He also had 16 doubles and two triples, scored 37 runs and went 25-for-27 on stolen-base attempts.
With Friday's performance padding his numbers, the 34-year-old veteran has defied the Oakland Coliseum's pitchers-park reputation by compiling a career .336 average. He has 16 steals without ever having been caught at Oakland, where he has scored 22 runs in 33 games.
Marte has two more games with which to add to his impressive Coliseum numbers and inflate a steal total that already has reached five this season.
Not bad for a guy who was considered a disappointment in New York last season (.292 but with just 18 steals, caught nine times), then underwent groin surgery on both sides in November.
"I just kind of listened to what the trainers told me, what to do with my recovery, and I just followed it," Marte said of his quick recovery. "I feel my speed is good. I feel like the operation, it helped, it worked and it feels good."
Marte and his teammates will see an unfamiliar face on the mound Saturday when Shintaro Fujinami (0-2, 17.55 ERA) makes his second home start as a member of the A's. His first didn't go well when he was tagged for eight runs in 2 1/3 innings in a 13-1 loss to the Los Angeles Angels on April 1.
The 29-year-old right-hander didn't fare much better in his major league road debut on April 8, giving up five runs in 4 1/3 innings during an 11-0 shellacking at the hands of the Tampa Bay Rays.
Mets right-hander Carlos Carrasco (0-2, 11.42 ERA) will oppose Fujinami. Carrasco has failed to get out of the fifth inning in each of his two outings. He was bombed for five runs in four-plus innings in a 10-0 road loss to the Milwaukee Brewers on April 3 before allowing six runs in 4 2/3 innings in a 7-2 home loss to the Miami Marlins on Sunday
The longtime American Leaguer will face the A's for the ninth time in his career, the eighth time as a starter. The 36-year-old has gone 4-2 with a 3.14 ERA in head-to-head matchups.
The A's out-hit the Mets 13-11 and out-homered them 3-1 on Friday, but Oakland manager Mark Kotsay left the stadium embarrassed by his pitching, which issued 17 walks. Only once in franchise history did the team walk more batters, when the Philadelphia Athletics gave out 18 bases on balls in a 16-2 loss to the Detroit Tigers on May 9, 1916
The 17-walk total was a franchise record for the Mets
"Free bases have just killed us," Kotsay said. "It feels like a non-competitive environment right now, and we've got to make an adjustment. We're better than this on the mound. We need to be better."
--Field Level Media