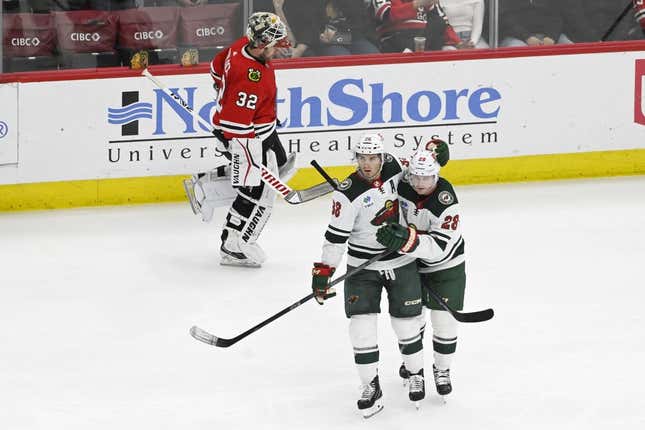 Not much separated the Minnesota Wild and the Dallas Stars during the regular season, and it appears their Western Conference first-round playoff series will be extremely tight as well
Air Jordans are more American than McDonald's French fries | Deon Cole's Ultimate Sports Fantasy
The Wild are scheduled to visit the Stars for Game 2 on Wednesday, two nights after Ryan Hartman scored in double overtime to lift Minnesota to a 3-2 win and cap the longest game in Wild history
Dallas and Minnesota split their four regular-season matchups. The Stars won two games by the score of 4-1 and lost the other two in shootouts, ultimately finishing in second place in the Central Division, five points ahead of the Wild
"We expect a good battle," Hartman said. "We're happy with obviously getting the first one, but can't sit and think about the win too much. We have a game to play on Wednesday, and we need to get another win."
Kirill Kaprizov scored for the Wild, giving him 10 playoff goals in 14 games to start his NHL career. Only one other NHL player has reached double digits in playoff goals faster in the past 32 years. Vladimir Tarasenko scored 10 goals in his first 12 playoff games for the St. Louis Blues in 2014 and 2015
Sam Steel also scored and was credited with the lone assist on the overtime winner by Hartman.
"We know what we can do," Steel said. "We've done it all year and we just stuck with it."
The players who took center stage in Game 1 were the goalies, however, and Jake Oettinger of the Stars and Filip Gustavsson of Minnesota are expected to be back in net for Game 2
Oettinger finished with 45 saves in the series opener and Gustavsson had 51, a franchise record for a playoff debut.
Oettinger said he won't allow the bad ending to Game 1 throw off his preparation for Wednesday.
"We're going to flush it and move on pretty quick," Oettinger said. "Everyone wants to get back here for Game 2."
Minnesota played without defenseman John Klingberg and forward Joel Eriksson Ek in Game 1. Both are sidelined with lower-body injuries and remain questionable for Game 2.
Klingberg's injury wasn't made public until he missed practice on Sunday, while Eriksson Ek missed the final four games of the regular season before sitting out the series opener.
The Stars sustained a key loss in Game 1 when veteran forward Joe Pavelski was hit by Minnesota defenseman Matt Dumba midway through the second period, causing Pavelski's head to strike the ice and briefly leaving him motionless
Pavelski, who scored 28 goals and finished with 77 points during the regular season, did not return to the game and appears doubtful for Wednesday.
"I'm not confident for Game 2," Dallas coach Pete DeBoer said.
Dumba was given a two-minute roughing penalty on the play. DeBoer and several of the Dallas players thought he deserved a harsher penalty, but they don't plan to dwell on the incident.
"We've got to regroup and get ready for Game 2," DeBoer said. "That's playoff hockey. You've got to deal with all kinds of adversity, whether it's a missed call or a bounce in overtime or a post that didn't bounce your way. Those are things you have to deal with."
--Field Level Media