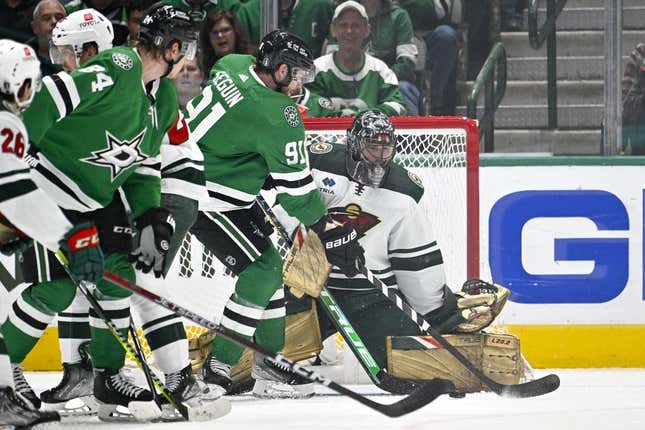 Roope Hintz had three goals and an assist to help the Dallas Stars even their Western Conference first-round playoff series against the visiting Minnesota Wild with a 7-3 win in Game 2 on Wednesday
Bass' ERA stinks, but not compared to who he is off the mound | Worst of the Week Countdown
Game 3 is Friday night in Saint Paul, Minn.
Dallas' Evgenii Dadonov scored two goals, Jamie Benn logged a goal and an assist, Tyler Seguin also scored and Miro Heiskanen set a Dallas playoff record with four assists. Jake Oettinger made 23 saves for the Stars, who went 3-for-6 on power plays and are 5-for-11 with a man advantage in the series
Oskar Sundqvist, Marcus Johansson and Frederick Gaudreau scored for the Wild. Minnesota opted to start Marc-Andre Fleury in goal, and the 19-year veteran finished with 24 saves
Filip Gustavsson made 51 saves for the Wild in their 3-2 double-overtime win in Game 1 on Monday
Hintz scored on a short-handed breakaway to give the Stars a 1-0 lead at 3:38 of the first period
Tyler Seguin tipped in a slap shot with 30 seconds left on a four-minute high-sticking penalty to extend the lead to 2-0 at 11:20 of the first.
Sundqvist was credited with a goal after a rebound went off his skate and into the Dallas net to cut the gap to 2-1 with 3:49 remaining in the opening period.
The Stars stretched their lead to three when Benn scored on a power play to make it 3-1 at 4:07 of the second period. Dadonov followed with a goal at 5:34 to make it 4-1
Minnesota answered with two goals 11 seconds apart, the fastest in team history for a playoff game, quickly trimming the lead to one.
Johansson's power play goal cut the deficit to 4-2 on a power play at 11:54, and Gaudreau got loose off the ensuing faceoff and scored to make it 4-3 at 12:05.
The Stars came back with two quick goals of their own later in the period to re-establish a three-goal lead
Dadonov scored his second goal at 16:08 to make it 5-3, and Hintz matched him with his second at 16:56 for a 6-3 lead.
Hintz completed the hat trick with another power-play goal for a 7-3 lead at 12:16 of the third period.
--Field Level Media