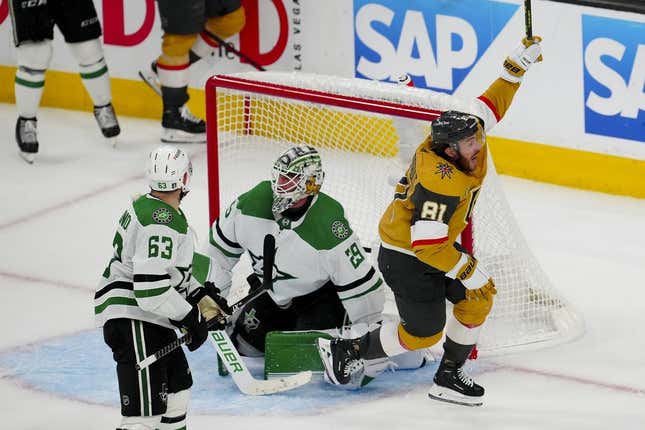 The Dallas Stars are hoping a return to familiar territory will help close the narrow gap with the Vegas Golden Knights in the NHL Western Conference finals, which resume Tuesday with Game 3
Is Texas or Florida State a bigger national title contender? | Agree to Disagree
The Stars lost the first two games of the best-of-seven series in overtime at Las Vegas, with the Knights winning 4-2 in Game 1 and 3-2 in Game 2
"We could've won both games," Dallas coach Peter DeBoer said. "They held serve at home. We've got to go and do the same thing."
The Stars fell to 0-4 in overtime in the 2023 Stanley Cup Playoffs, while Vegas improved to 6-0 in games decided by two goals or fewer
"I don't think it's less troubling that we lost both games in overtime," DeBoer said. "The positive piece is that we played a much better game (in Game 2 on Sunday), and if we play that type of game, we've got a chance to win when we go home."
Dallas had a 2-1 lead entering the third period of Game 2 after limiting the Golden Knights to 10 shots on goal and 25 total shot attempts through the first two periods
Vegas' Jonathan Marchessault scored off a turnover by Dallas defenseman Ryan Suter to tie the score 2-2 with 2:22 left in regulation. Chandler Stephenson scored the game-winner 1:12 into overtime.
"I don't think we played great, but good teams at this time of the year it doesn't matter, you find a way to win a hockey game," Marchessault said. "We were winners."
Marchessault will be playing in his 80th playoff game with the Golden Knights since the franchise debuted in the 2017-18 season. So will teammate William Karlsson, while Shea Theodore (78), Brayden McNabb (72) and William Carrier (65) also have considerable playoff experience with Vegas
Mark Stone has appeared in 78 playoff games the past five seasons, including 59 with Vegas.
That experience seems to be on display the most when the score is close and the minutes are counting down.
"They like to win, and they know how to win when the game gets close, and when it's winning time," Vegas coach Bruce Cassidy said. "We don't always look great doing it and I'll be the first to admit that. We're working on that every day, but at the end of the day there's an inner confidence in the group."
The Stars went 0-for-8 on the power play in three regular-season games against Vegas and went 0-for-2 in Game 1 before Jason Robertson scored with the man-advantage at 9:21 of the second period in Game 2 to give Dallas a 2-1 lead. It was the third time Dallas has held a lead through the first two games
The Stars, who finished fifth in the season on the power play during the regular season at 25.0 percent, hope to better take advantage of any man-advantage situations that arise in Game 3
"Obviously, special teams are important. We want to be good on special teams the whole series," Robertson said. "You've got to take what you can; those opportunities don't come often. We got one, but we need to work on it, keep practicing, work on things and try to get more."
--Field Level Media