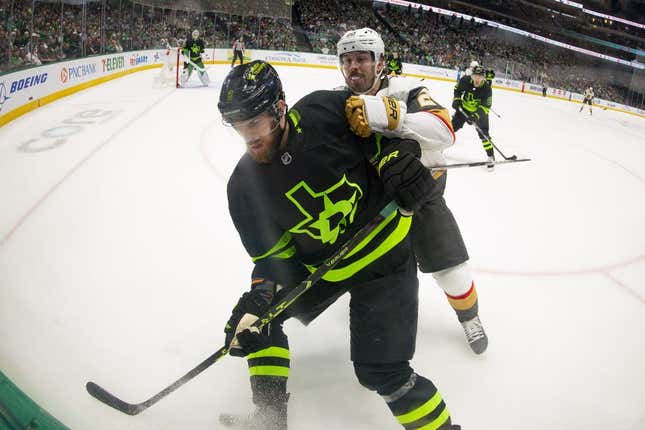 Solid defense and goaltending have produced a three-game winning streak for the Dallas Stars. They will look to extend it when they travel to Detroit for the Red Wings' home finale on Monday night
Chris Paul should ride the bench next season | Keep it a Buck(et)
The Stars have allowed just one goal in each of those wins against Nashville, Philadelphia and Vegas. The 2-1 triumph over the Western Conference-leading Golden Knights required a shootout on Saturday
Jake Oettinger made 19 saves in regulation and overtime, then stopped all three shots in the shootout. He made a pad save against Paul Cotter to preserve the win.
"God gave me long legs, so thankful for that," Oettinger said. "Just felt it on the end of my foot there, so I was hoping it stayed out, and happy it did."
Roope Hintz scored the only goal during the shootout and Joel Kiviranta had the Stars' lone goal in regulation. Kiviranta's goal was his eighth this season
"It was a big fourth line goal," Stars coach Peter DeBoer said. "They got a fourth line goal in the first, we got a fourth line goal in the second. That was the story of the game. It wasn't the prettiest, but we found a way and got a lot of contributions.
The Stars (44-21-14, 102 points) are batting Colorado and Minnesota for the Central Division title with three games to go
It was the type of contest Dallas will likely experience in the playoffs.
"It's going to be tight games like that," Hintz said. "It's going to be heavy, hard games like that was, so I think that was good."
Getting the victory in a defensive struggle was noteworthy to the Stars' coach as well
"It was a big two points," DeBoer said. "It wasn't pretty, and we didn't have our best stuff, but we grinded and found a way to get the result that we needed."
Detroit (35-34-10, 80 points) was eliminated from postseason contention on Thursday. The Red Wings have lost their last two games, a 7-6 shootout to Buffalo and a 5-1 clunker to Pittsburgh
Detroit had only 20 shots on goal against the Penguins, who are fighting for an Eastern Conference wild-card spot.
"It's a lesson learned," Red Wings coach Derek Lalonde said. "There were some stretches where we played pretty well, we had a real good start. But there were some growth mistakes. It's why I like these games
"That is a team fighting for their playoff lives and they played a real good game. We had flashes of being good, but just some of our egregious mistakes ended up on the wrong players' sticks."
Penguins star Sidney Crosby was at the top of his game, leading his team with two goals and an assist. His first goal came with three seconds left in the first period.
"It was basically their season for them and we knew they'd come out and we tried to match that (intensity)," Wings forward David Perron said. "That was the message before the game, that we want to be in that spot they're in, next year. But those mistakes, especially this time of year, if you have them in important games, it just kills you and that's what happened."
Dallas won the first meeting with Detroit 3-2 in overtime on Dec. 10.
--Field Level Media