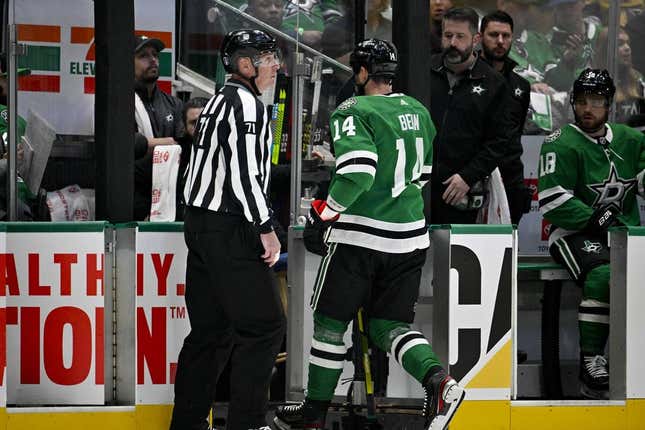 Dallas captain Jamie Benn lasted less than two minutes in the Stars' critical Game 3 against the visiting Vegas Golden Knights on Tuesday, getting ejected from the Western Conference finals game due to a cross-check
'Soccer fandom is full of gatekeepers' says Ted Lasso actor Brendan Hunt
Benn checked Golden Knights captain Mark Stone near mid-ice, and as Benn fell on top of Stone, he delivered a cross-check high up Stone's body at 1:53
The referees assessed Benn a five-minute major and a game misconduct.
Vegas already led 1-0 at the time of the incident, and the Golden Knights -- already up 2-0 in the best-of-seven series entering the night -- doubled the lead on the ensuing power play
"That's one of those that's not a hockey play," Golden Knights forward Jonathan Marchessault said of Benn's hit while speaking on ESPN after the first period. "It's pretty disgusting. He leans on top of him and gives it to him in his head there. It's one of those where we wanted to get one there on the power play to make them pay, and we just executed, so it's a pretty good first period for us.
Benn has three goals and eight assists in 16 playoff games this year, including a goal in the opener against Vegas.
With Vegas up 4-0 and 22 seconds remaining in the second period, Dallas center Max Domi cross-checked defenseman Nicolas Hague into the boards then cross-checked him again and punched Hague in the face, drawing a trio of penalties: roughing, cross-checking and a misconduct.
--Field Level Media