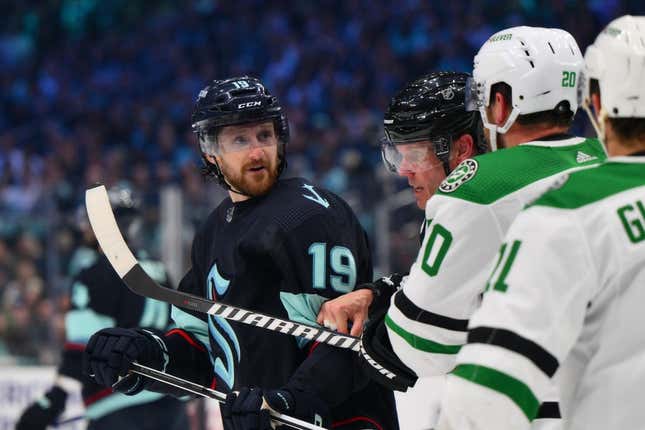 If there's one element of the Western Conference second-round playoff series between the Seattle Kraken and Dallas Stars that's become easily apparent, it's that anything can happen
Chris Paul should ride the bench next season | Keep it a Buck(et)
After the teams traded one-sided wins in Games 3 and 4, the Kraken and Stars will get together for Game 5 on Thursday night in Dallas, with each team looking to take a 3-2 series lead
The Stars lost Game 1 in overtime and were blown out in Game 3, but they bounced back with a 6-3 win in Game 4 in Seattle, dominating every facet of the matchup
"When we're playing well, that's what we look like," Stars coach Peter DeBoer said. "We're not giving up much, we're putting pressure on the other team. We fixed a lot of things.
Seattle also knows what it's like to bounce back in a series.
In the first round, the Kraken were down 2-1 heading into Game 4 against the Colorado Avalanche, but they won in overtime and eventually knocked off the defending Stanley Cup champions in seven games
"Every period matters," Seattle coach Dave Hakstol said on Tuesday. "Seven-game series, this is Game No. 4, 2-2 right now, and every shift, every play, every period matters."
So does every healthy body.
The Kraken welcomed back forward Jared McCann for Game 4
McCann, who led Seattle in goals (40) and points (70) during the regular season, made his first appearance since sustaining an undisclosed injury against the Avalanche in Game 4 on April 24.
He missed the next three games of that series and the first three against Dallas before playing 13:11 of Game 4 on Tuesday, registering three shots on goal and two takeaways, although he did commit two minor penalties.
"First couple shifts it was a little tough, but towards the end I felt really good," McCann said.
Meanwhile, the Stars welcomed back their best defenseman, Miro Heiskanen, after he was hit in the face with the puck early in the second period of Game 3 and left with a bad gash
The Kraken scored all of their goals while Heiskanen was out of the game in the 7-2 win
He played a team-high 31:02 in his return on Tuesday.
"And hard minutes, hard minutes (in Game 4)," DeBoer said. "He's done it all year for us, he's one of the best in the world at that position, he's a warrior. That's a nasty gash, he hasn't been able to eat much, probably hasn't slept well, and to show up and play a game like that, that's impressive."
However, the revolving door to the trainer's room continued, as Dallas forward Mason Marchment departed Game 4 due to an upper-body injury.
The Stars were also without defenseman Jani Hakanpaa (lower-body injury) and two-way forward Ty Dellandrea (illness)
Dallas didn't seem to skip a beat, however.
Max Domi had two goals and an assist and fellow veterans Joe Pavelski and Roope Hintz also scored for the Stars
"That's what wins this time of year -- your best players have to lead the way," DeBoer said. "Miro, Joe Pavelski, those guys never cheat for offense. Roope, I would put in that category, too. Those guys are never going to put their offensive game ahead of their defensive responsibilities. That kind of boosts your group."
--Field Level Media