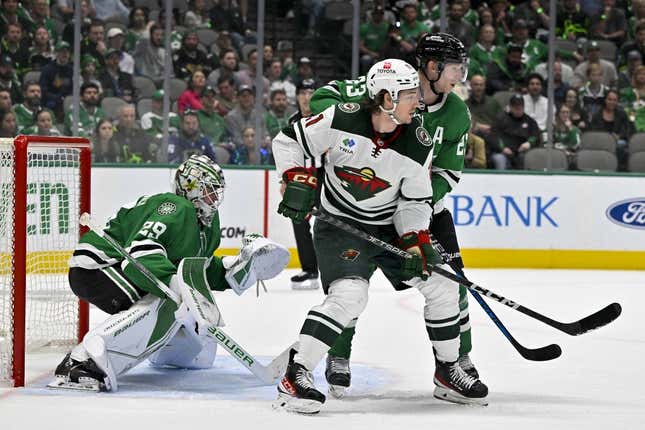 The momentum has gone back and forth through the first three games of the Western Conference first-round Stanley Cup playoff series between the Dallas Stars and Minnesota Wild
'Soccer fandom is full of gatekeepers' says Ted Lasso actor Brendan Hunt
After the Wild took a 2-1 lead in the best-of-seven series with Friday's convincing 5-1 home-ice victory, the onus is on the Stars to regain momentum and even the affair when the puck drops Sunday in Game 4 in St. Paul, Minn
"Whether you lose 1-0, 5-1, it's one game," Dallas coach Peter DeBoer said. "We're down 2-1. We've got a chance to get a split here and get our home ice back with a big effort next game, so that's what we're looking to do."
Pulling even in the series will require the Stars to improve greatly upon Friday's performance. Mats Zuccarello scored twice and Ryan Hartman collected one goal and two assists for the Wild while the Stars sputtered
In fact, about the only part of the Stars' game that has performed to expectations through the first three games has been the power play (5-for-13). However, with how the Wild curbed their infractions in Game 3, the lack of even-strength offense proved costly
Jason Robertson, who racked up 46 goals and 109 regular season points, has netted one goal and two assists in the series, all collected while enjoying the man-advantage. With Joe Pavelski out due to a concussion, Robertson must step up his game.
"Maybe not get so many shots blocked, try to get more open spaces," Robertson said of what he must improve. "Maybe take more pucks to the net. Maybe I'm being too perimeter."
The Wild are well aware the Stars expect better of themselves on Sunday, but Minnesota has a good template to follow from Friday's performance
The Wild opened the scoring, extended their lead early in the second period and then put their foot on the gas when the Stars made it a one-goal game
"We were very businesslike in the room, and they were just ready to play," Minnesota coach Dean Evason said. "It's such a big credit to -- and I know it probably gets old when I talk about our leaders and whatever -- but it's reality that the way that they conducted themselves and in preparation ... and then executing on the ice is real good."
Now, the quest is to keep the momentum from swinging to the other side. Duplicating that same business-like approach will be the first step.
"It's a completely new game," Hartman said. "I know they're not thinking about their last win and we're not thinking about the last game either. It's a fresh game in our building. I can tell you we're not going to be thinking about (Friday's) game on Sunday, and neither will they. A completely new game. We've got to go out there and give the same effort."
That said, all is not perfect for Minnesota. Forward Joel Eriksson Ek lasted one 19-second shift before leaving. He missed the final three games of the regular season and first two playoff games due to injury, and there was no update on his availability on Saturday.
--Field Level Media