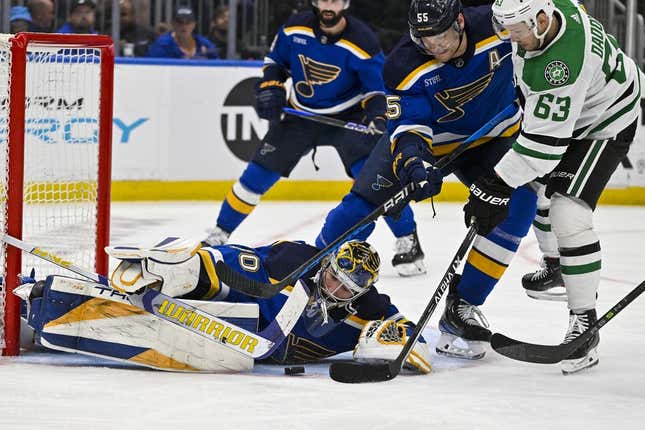 They need a bit of help, but the Dallas Stars head home for their regular-season finale against the St. Louis Blues on Thursday with a shot at the Central Division title
The Stars (46-21-14, 106 points) claimed a 5-2 victory over the Blues on Wednesday in the first half of a home-and-home series, which moved them one point ahead of the Avalanche (49-24-7, 105 points). Colorado has two games remaining, but Dallas owns the tiebreaker if they finish level in points
"We want to keep the pressure on Colorado and keep our hopes alive to win the division," Dallas coach Pete DeBoer said. "That was the goal coming onto the road trip, to make sure we took care of our business and win two games, and we did that."
Dallas is riding a five-game winning streak and has notched seven victories in its past eight outings. On Wednesday against the Blues, Wyatt Johnston scored twice, Tyler Seguin registered one goal and one assist in his 900th regular-season game and Jason Robertson collected three assists. Dallas potted three power-play goals
"I think you've got to stay in that neutral, humble, simple median and not get too ahead of ourselves, because the playoffs are a different demon," Robertson said. "Not going to get as much power plays, not going to get many looks and chances, so you've just got to bear down."
The Stars have even more players rolling. Joe Pavelski has scored seven goals in the past eight games, and defenseman Miro Heiskanen added two assists on Wednesday, giving him the franchise single-season record of 73 points
The Blues (37-37-7, 81 points) have lost their past two outings as they play out the string
"Hard to win when you give up three power-play goals," said forward Robert Thomas, who scored once in a two-point outing. "(The penalty kill has) been a struggle for us all year, something we need to work on because it's a huge part of the game. It's something we've been good at for a long time and something we need to get back to."
St. Louis is near the bottom of the league in killing penalties, one of the multitude of reasons the Blues will miss the playoffs for the first time since the 2017-18 season
"It's a very weird feeling," Blues defenseman Torey Krug said. "I don't like it, and I'm sure all the guys back there would agree with me. You always want a chance at winning the Stanley Cup, and you get into the playoffs, anything can happen
"We see it time and time again. Teams go on streaks and not always the better team wins the series and other teams move on. It's disappointing that we didn't get our foot in the door and give ourselves a chance. It's not fun playing meaningless hockey games."
After the Blues started the season with three wins, they endured an eight-game losing streak, won their next seven outings, but they fell apart from that point
"It's been like a roller coaster," added Krug, who played his 700th regular season game on Wednesday. "We had so much promise coming into the season, but as players we didn't perform up to the standard that usually the St. Louis Blues do.
--Field Level Media