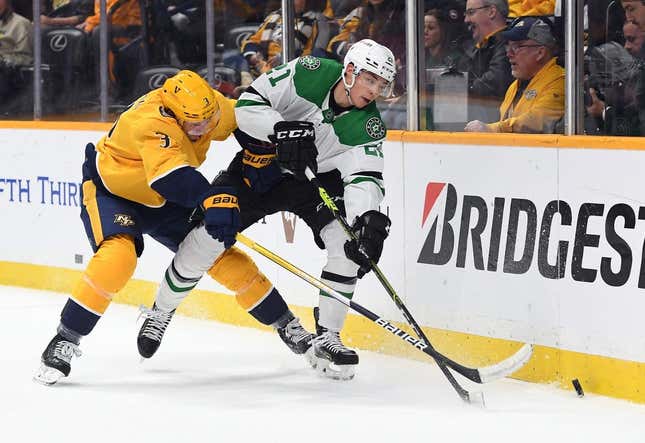 The Dallas Stars open a crucial three-game homestand when they host the Nashville Predators on Monday night
Aaron Rodgers should go full Joe Namath | Comedian Bert Kreischer
Dallas (41-21-14, 96 points) remains locked in a three-way contest for the top seed in the Central Division in the Stanley Cup Playoffs. The Stars enter Monday tied with the Colorado Avalanche, who have a game in hand, and one point behind the Minnesota Wild
The Stars come home after splitting back-to-back games on Friday at Arizona (a 5-2 win) and Saturday at Colorado (a 5-2 loss)
Tyler Seguin and Joe Pavelski scored against the Avalanche for the Stars, who had won two straight. Jake Oettinger made 27 saves in his second start in as many nights
"Considering the circumstances, we came out ready to play, and we knew what was at stake and played well," Dallas coach Peter DeBoer said. "The errors we made, turning a puck over, taking a too many men on the ice penalty, that's a team that makes you pay for that. ... And I think everyone knows that you're going to have to beat those guys in order to get through the West."
Dallas went 2-for-5 on the power play, but the three misses came in the first and second periods of a close game.
"It was struggling a little bit," defenseman Miro Heiskanen said of the power play. "We have to be better."
Jason Robertson had two assists and has 97 points (42 goals, 55 assists), seventh most in franchise history. He could become the fourth player to score 100 or more points in a single season for the Minnesota/Dallas franchise.
Nashville (38-29-8, 84 points) has dropped three of its past five games but remains in the thick of the Western Conference wild-card race. All seven of the Predators' remaining games are against teams that are assured of being in the playoffs or are competing for a spot
The Predators took full advantage of their last game against a non-contender, routing the visiting St. Louis Blues 6-1 on Saturday
Tommy Novak had a goal and three assists and Luke Evangelista had one and two, respectively. Juuse Saros made 21 saves for Nashville, which had only scored eight goals in its previous five games (2-3-0).
"We wanted to play in meaningful games down the stretch," Predators coach John Hynes said. "When you look at the group that's really come in and the next-man up mentality, night in and night out for the most part, we're giving ourselves a chance to win.
Novak has 38 points (15 goals, 23 assists) in 44 games with Nashville since being recalled from Milwaukee of the American Hockey League on Dec. 19. Linemate Evangelista now has 12 points (six goals, six assists) in his first 17 career NHL games.
"We're just on the same page," Evangelista said of Novak. "We think the game really similar. We're both good playmakers so we're able to feed off each other and play a give-and-go kind of game. ... He's just a joy to play with."
Dallas will be looking to sweep the season series. The Stars took a home-and-home to open the season -- 4-1 and 5-1 -- and then won 3-2 at Nashville on Dec. 27, all with Oettinger in goal
--Field Level Media