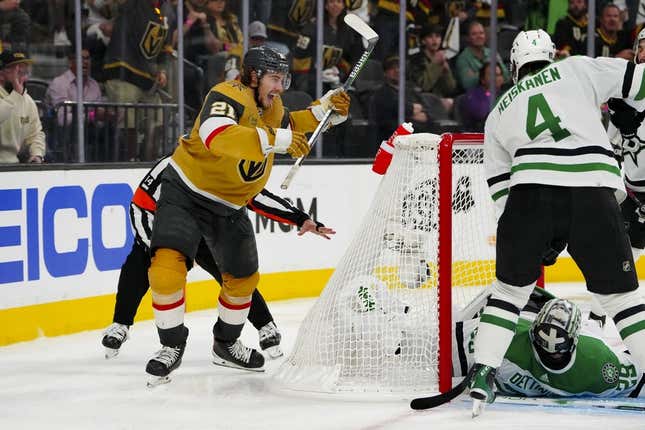 The Dallas Stars find themselves trailing in the series entering Sunday afternoon's Game 2 of their Western Conference finals versus the Vegas Golden Knights in Las Vegas
Air Jordans are more American than McDonald's French fries | Deon Cole's Ultimate Sports Fantasy
And considering the Stars' history so far in this year's playoffs, that actually might be a good omen
Dallas has rebounded from overtime losses in Game 1 of each of its first two series to advance to the next round. The Stars fell 3-2 in double-overtime to the Minnesota Wild but rebounded to win that first-round series in six games. They lost 5-4 in OT to the Seattle Kraken to start the second round but rallied to win that series in seven games
"I think the good news is the other two (series) ended the right way so that's what we'll hope for," Dallas coach Peter DeBoer said after a 4-3 overtime loss to Vegas on Friday. "We've been a response team all year, particularly in the playoffs. We'll regroup and be ready for Game 2."
"We respond the right way," said forward Jason Robertson, who snapped an eight-game goal drought in the loss. "The biggest thing is we have a lot of leaders in this locker room, a lot of veterans who understand what we can do better, what we did wrong in the previous game and try to improve that. That's attributed to the coaches and staff having us prepared, and the leaders in this room."
Other than a very slow start in the first period that saw the Golden Knights take an 11-1 edge in shots on goal, Dallas had plenty to be optimistic about afterward
Robertson scored his first five-on-five goal of the playoffs and first tally overall since Game 5 against Minnesota on April 25. Center Roope Hintz had a goal and two assists to boost his playoff point total to a league-best 22 (10 goals, 12 assists), two more than Edmonton Oilers captain Connor McDavid.
Goalie Jake Oettinger, who has yet to lose back-to-back games in the playoffs, was "our best player all night, for sure in that first period to weather that storm," DeBoer said. Oettinger finished with 33 saves.
"I guess the good parts of the game -- Robo got one, we pushed back hard all night," DeBoer said. "Every time we'd fall behind we'd get desperate for five or 10 minutes and push back into the game. We've got to bring that more consistently. But there's no quit in this group. You saw that."
Dallas twice rallied from one-goal deficits in the third period, the second time with a six-on-five goal by captain Jamie Benn with 1:59 left.
But Vegas rebounded to win it just 95 seconds into overtime when Brett Howden's shot from behind the goal line caromed in off the back of Oettinger's left leg.
It was Howden's first career playoff overtime goal. William Karlsson scored twice and fourth-line center Teddy Blueger, a healthy scratch in the first nine games of the playoffs, also scored for the Golden Knights. Adin Hill continued his strong playoff run with 33 saves
Vegas got the win despite getting just one point -- an assist by center Chandler Stephenson -- from its top four regular-season scorers. Jack Eichel, Jonathan Marchessault and Reilly Smith all were blanked on the scoresheet.
"Everyone has a different formula," Vegas coach Bruce Cassidy said. "It can't always be the stars, right, or the guys that you would expect. And that's what's been good about our team. Different people step up in key moments.
Karlsson had just 14 goals in the regular season and has been singled out by Cassidy more for his defense and face-off ability. Karlsson now leads the team with seven playoff goals.
"It's a great time of the year," Karlsson said. "You want to be one of the guys to contribute. It's when it matters the most."
--Field Level Media