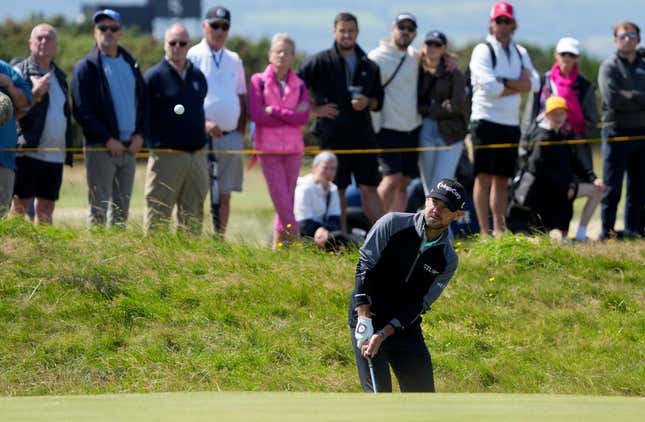 Brian Harman has led a major championship after 54 holes once before. He knows now not to think about the massive lead he has earned.
How running an NFL team is like running a restaurant | Chef Emeril Lagasse
His plan is simple. Ten hours of sleep plus 18 solid holes of golf ought to equal one Claret Jug.
Harman recovered from a bumpy start to his third round to post a 2-under-par 69 and maintain his commanding five-shot advantage at The 151st Open Championship on Saturday in Hoylake, England.
Harman sits at 12-under 201 heading into Sunday's final round at Royal Liverpool Golf Club, with Cameron Young shooting a third-round 66 to take over second place at 7 under.
A 36-year-old lefty from Georgia, Harman has only two top-10 finishes at majors in his career and hasn't won on the PGA Tour since 2017. That year, he held the 54-hole lead at the U.S. Open at 12 under before shooting a final-round 72 and losing to Brooks Koepka.
Now he must protect a lead again, for one day more.
"The thoughts come and go," Harman said Saturday, "so we'll do our best and sleep as much as we can."
Periods of rain combined with mild winds led to a softer course and lower scores throughout moving day. Jon Rahm was the first to take advantage, as the two-time major winner from Spain set a course Open record by firing a bogey-free 63 before Harman teed off.
By day's end, Rahm was alone in third at 6 under. Viktor Hovland of Norway (66 Saturday), Frenchman Antoine Rozner (67), Australian Jason Day (69), Sepp Straka of Austria (70) and Englishman Tommy Fleetwood (71) formed a tie for fourth at 5 under.
Fleetwood, the home-crowd favorite playing in the final pairing with Harman, could not take advantage of the favorable conditions. He had one birdie and one bogey for his second straight round of even par after grabbing a share of the lead Thursday.
Harman, coming off a bogey-free round Friday, made a mess of the par-4 first and initial four holes to drop back to 8 under, just two in front of Rahm and a charging Day at the time. Then Harman righted the ship by nearly holing a 71-foot eagle at the par-5 fifth and tapping in for birdie.
"It would have been really easy to let the wheels start spinning and really kind of let it get out of control, but I just kind of doubled down on my routine and knew I was hitting it well, even though I hadn't hit any good shots yet," Harman said.
"Staying patient out there is paramount. Sometimes it's a lot harder than others. But really proud of the way that I hung in there."
Harman added birdies at Nos. 9, 12 and 13, the latter a 20-footer, and scrambled for pars the rest of the way.
Then there's Young, back in contention after finishing second at St Andrews a year ago. Though he still has not won on the PGA Tour, he's considered one of the best players in the field after winning Rookie of the Year honors in 2022.
"I've been near the lead plenty," Young said. "It's just a general kind of building of evidence and experience that I can lean on."
Young started his day with a 31-foot birdie putt at the first hole and went out in 3-under 32 before adding birdies at the par-5 15th and 18th holes to get to 7 under.
He'll go head to head with Harman in Sunday's final pairing.
"(On Sunday) we're going to plan on the same plan of attack as the last few days and kind of see where we are after a few holes," Young said.
Rahm's 63 featured four birdies in a row at Nos. 9-12 and a 6-under 30 on the back nine. He drained a 33 1/2-foot birdie putt at No. 16 after missing the fairway and punctuated the round with an 11-foot birdie at No. 18.
"That's the best round I've played on a links golf course ever," Rahm said.
Should Rahm make this Open his third career major title, he'd join a list of greats who have won the Masters and The Open in the same calendar year: Ben Hogan, Arnold Palmer, Jack Nicklaus, Gary Player, Tom Watson, Nick Faldo, Mark O'Meara and Tiger Woods.
Day, the 2015 PGA Championship winner, went out in 3-under 32 before fading with a bogey and eight pars on the back nine. Hovland, who notched six birdies and one bogey, is now a regular contender at majors after tying for fourth with Fleetwood last year at St Andrews.
The chances are fading for Fleetwood to become the first Englishman to win an Open Championship on English soil since Tony Jacklin in 1969. Harman admitted with a smile that spectators said some "unrepeatable" things to him while supporting Fleetwood.
Fleetwood is one of four players in history to have shot two rounds of 63 at majors. Now seven off the pace, Fleetwood said he believes he still can win.
"Yeah, of course," he said, "but it really is down to Brian."
--Field Level Media